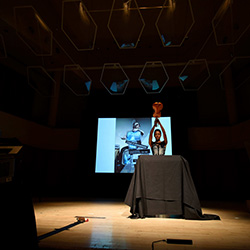 When: Thursday, March 10, 2016
6:30 PM - 8:30 PM
Where: Block Museum of Art, Mary and Leigh, 40 Arts Circle Drive, Evanston, IL 60208 map it
Audience: Faculty/Staff - Student - Public - Post Docs/Docs - Graduate Students
Cost: Free
Contact: Nicole Mauser

Group: Block Museum of Art
Co-Sponsor(s):
Bienen School of Music Concerts and Events

Category: Fine Arts
Description:
6:30pm, Free Talk & Performance, Block Museum
7:30pm, Ticketed Performance, Shirley Welsh Ryan Opera Theater in the Ryan Center for the Musical Arts (Tickets Available)
In 1963 Charlotte Moorman premiered Giuseppe Chiari's Per Arco (For the Bow), a work that incorporated audio recording of World War II battles and called for the cellist's response to the sounds of war. Moorman's performances, like those of many other members of the avant-garde in the 1960s and 1970s, sometimes reflected the social and political upheavals of the time, including the anti-war, civil rights, and feminist movements. Join the Block, the Bienen School of Music, and the Contemporary Music Ensemble for an evening inspired by Moorman's examples of how music and performance can reflect on and respond to political events.
The program will begin at the Block Museum with a performance by international cello improviser Deborah Walker. Walker's work focuses on sound exploration through contemporary repertoire, improvisation and interaction with other disciplines. The cellist will present several works from Moorman's repertoire including Per Arco, which Walker adapted by studying photographs and rare footage from the Charlotte Moorman Archive. Walker's performance will be accompanied by a discussion from Block Museum curator Corinne Granof of Moorman's Bomb Cello (c.1965), an instrument fashioned from military practice bomb.
This free presentation will be followed by a concert at the Shirley Welsh Ryan Opera Theater in the Ryan Center for the Musical Arts. The Contemporary Music Ensemble, joined by members of new music collective Ensemble Dal Niente and led by Alan Pierson and Vincent Povazsay, will perform Georg Friedrich Haas's In Vain (2000), a musical response to the rise of the right wing in Europe, and Witold Lutoslawski's Chain 1.
This program is presented in partnership with the Henry and Leigh Bienen School of Music, Northwestern University. Tickets for the Ryan Opera Center performance are available online and at the Ryan Center Box office prior to the performance.