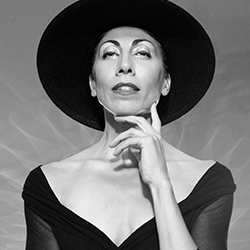 When: Sunday, March 11, 2018
2:00 PM - 3:00 PM
Where: Wirtz Center for the Performing Arts, Josephine Louis Theater, 20 Arts Circle Drive, 1949 Campus Drive; 10-30 Arts Circle Drive, Evanston, IL 60208 map it
Audience: Public
Cost: Adult $25
Seniors (62+) $22
Area Educator $22
NU Faculty/Staff $20
Full-Time Student $10
NU Student $6/Adv. $10/Door
Contact: Wirtz Center Box Office 847.491.7282

Group: Virginia Wadsworth Wirtz Center for the Performing Arts
Category: Fine Arts
Description:
The best in contemporary dance is always on full display at the annual Danceworks performances featuring exciting and groundbreaking choreography. This year's production entitled Woman & Power at High Speed will feature new works from Carrie Hanson, founding artistic director of the critically-acclaimed dance company The Seldoms, one of Dance Magazine's "25 to Watch" Nejla Yatkin, and Vershawn Sanders-Ward, founder and executive artistic director of Red Clay Dance Company.
DANCEWORKS 2018: @ Hi-Speed
March 2 – 11, 2018
Josephine Louis Theater, 20 Arts Circle Drive
Artistic Direction by Joel Valentín-Martínez
Choreography by Carrie Hanson, Vershawn Sanders-Ward and Nejla Yatkin
Part of the 17/18 Mainstage Subscription Package
Single tickets available online Sept 5, phone and in-person sales available Sept 19.
Performance Schedule
Friday, March 2 at 7:30PM
Saturday, March 3 at 7:30PM
Sunday, March 4 at 2:00PM
Thursday, March 8 at 7:30PM
Friday, March 9 at 7:30PM
Saturday, March 10 at 7:30PM
Sunday, March 11 at 2:00PM
Ticket Pricing
Adult $25
Seniors (62+) $22
Area Educator $22
NU Faculty/Staff $20
Full-Time Student $10
NU Student $6/Adv. $10/Door
Box Office: 847-491-7282
WIRTZ.NORTHWESTERN.EDU