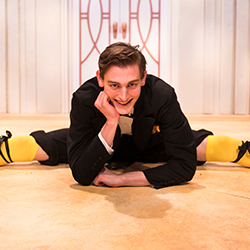 When: Sunday, February 18, 2018
2:00 PM - 4:00 PM
Where: Wirtz Center for the Performing Arts, Ethel M. Barber Theater, 30 Arts Circle Drive, 1949 Campus Drive; 10-30 Arts Circle Drive, Evanston, IL 60208 map it
Audience: Public
Cost: Adult $25
Seniors (62+) $22
Area Educator $22
NU Faculty/Staff $20
Full-Time Student $10
NU Student $6/Adv. $10/Door
Contact: Wirtz Center Box Office 847.491.7282

Group: Virginia Wadsworth Wirtz Center for the Performing Arts
Category: Fine Arts
Description:
Following a shipwreck, twin brother Sebastian and sister Viola are separated in the land of Illyria. Viola assumes a new life as "Cesario" and enters the service of the Duke who longs for the love of the neighboring Countess. However, the Countess finds Cesario more to her liking. Deception, disguise, and the madness of love take center stage in one of the Bard's greatest romantic comedies.
Twelfth Night, or What You Will
February 16 – 25, 2018
Ethel M. Barber Theater, 30 Arts Circle Drive
By William Shakespeare
Directed by Jeffrey Mosser
Part of the 17/18 Mainstage Subscription Package
Single tickets available online Sept 5, phone and in-person sales available Sept 19.
Performance Schedule
Friday, February 16 at 7:30PM
Saturday, February 17 at 7:30PM
Sunday, February 18 at 2:00PM
Thursday, February 22 at 7:30PM
Friday, February 23 at 7:30PM
Saturday, February 24 at 7:30PM
Sunday, February 25 at 2:00PM
Ticket Pricing
Adult $25
Seniors (62+) $22
Area Educator $22
NU Faculty/Staff $20
Full-Time Student $10
NU Student $6/Adv. $10/Door
Box Office: 847-491-7282
WIRTZ.NORTHWESTERN.EDU