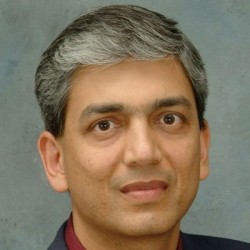 When: Thursday, October 12, 2017
2:00 PM - 3:00 PM
Where: Technological Institute, Room LR3, 2145 Sheridan Road, Evanston, IL 60208 map it
Audience: Faculty/Staff - Student - Public - Post Docs/Docs - Graduate Students
Contact: Lana Kiperman 847.467.0028

Group: Electrical Engineering & Computer Science
Category: Lectures & Meetings
Description:
The EECS Department welcomes Dr. Ashwin Ram, Senior Manager for AI Science for Alexa.
Ram will present a talk entitled "Conversational AI: Voice Based Intelligent Agents", on Thursday, October 12 at 2:00 PM in Tech Room LR3.
Abstract: As we moved from the age of the keyboard, to the age of touch, and now to the age of voice, natural conversation in everyday language continues to be one of the ultimate challenges for AI. This is a difficult scientific problem involving knowledge acquisition, natural language understanding, natural language generation, context modeling, commonsense reasoning and dialog planning, as well as a complex product design problem involving user experience and conversational engagement.
I will talk about why Conversational AI is hard, how conversational agents like Amazon Alexa understand and respond to voice interactions, how you can leverage these technologies for your own applications, and the challenges that still remain.

Bio: Dr. Ashwin Ram is Senior Manager for AI Science for Alexa, the intelligent agent that powers Amazon Echo and other devices. Ashwin heads research and development initiatives to create advanced technologies for conversational agents, including the Alexa Prize for university students. Along with a team of scientists and engineers, Ashwin pushes the envelope in artificial intelligence, natural language understanding, machine learning and conversational dialog in order to provide the best possible experience for Alexa users.
Prior to Amazon, Dr. Ram was Area Manager & Chief Innovation Officer of Interactive Intelligence at Xerox PARC, where he led a team to invent new technologies that make people smarter, particularly in consumer health and wellness. Before that, Dr. Ram was an Associate Professor in the School of Interactive Computing in the College of Computing of the Georgia Institute of Technology and Director of Georgia Tech's Cognitive Computing Lab. He has also been an Associate Professor of Cognitive Science, an Adjunct Professor in the School of Psychology, and an Adjunct Professor in Department of Math & Computer Science at Emory University.
Dr. Ram received his B.Tech. in Electrical Engineering from the Indian Institute of Technology, New Delhi. He was the valedictorian of his class and received the President of India's Gold Medal for best undergraduate performance. He received his M.S. in Computer Science from the University of Illinois at Urbana-Champaign, and his Ph.D. degree from Yale University for his dissertation on "Question-Driven Understanding: An Integrated Theory of Story Understanding, Memory, and Learning". He has published 3 books and over 100 scientific articles in international forums.
Hosted by: EECS Prof. Kristian Hammond