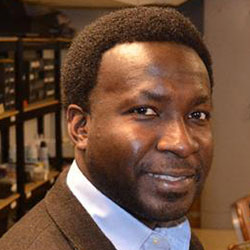 When: Tuesday, November 14, 2017
3:00 PM - 4:00 PM
Where: Technological Institute, Room L440, 2145 Sheridan Road, Evanston, IL 60208 map it
Audience: Faculty/Staff - Student - Public - Post Docs/Docs - Graduate Students
Contact: Lana Kiperman 847.467.0028

Group: Electrical Engineering & Computer Science
Category: Lectures & Meetings
Description:
The EECS Department welcomes Prof. Kimani Toussaint, Associate Professor in ECE & MSE at University of Illinois at Urbana-Champaign.
Toussaint will present a talk entitled "Exploring Quantitative Second-Harmonic Generation Microscopy & Multifunctional Plasmonic Nanoantennas" on Tuesday, September 14 at 3:00 PM in Tech Room L440.
Abstract: The application of light to help solve problems in biology and nanotechnology has become increasingly popular because of the importance of these areas to society. This talk will highlight the major bio- and nanophotonics projects pursued by the laboratory for Photonics Research of Bio/nano Environments (PROBE) at the University of Illinois at Urbana-Champaign. We will discuss our work developing quantitative second-harmonic generation (SHG) microscopy. Specifically, we will review the quantitative SHG microscopy techniques pursued by the PROBE lab for assessment of a variety of collagenous tissues, and discuss our recent efforts to integrate polarimetry with this nonlinear optical imaging modality. The second part of the talk will highlight our work on multifunctional optical nanoantennas. In particular, we show how the optical parameter space, along with the nanoantenna geometric properties can be tuned for a range of applications, including light-driven particle manipulation, recording of the optical near field, and table-top fabrication of planar optical components.The talk will conclude with a brief discussion of some of the very recent directions pursued by the PROBE lab.
Bio: Prof. Kimani C. Toussaint, Jr. is an Associate Professor in the Departments of Mechanical Science and Engineering and Bioengineering, and an Affiliate Faculty in the Department of Electrical and Computer Engineering and the Beckman Institute for Advanced Science and Technology at the University of Illinois at Urbana-Champaign (UIUC). Dr. Toussaint directs the laboratory for Photonics Research of Bio/nano Environments (PROBE Lab) at UIUC, an interdisciplinary research group which focuses on developing advanced optical techniques for both quantitatively imaging collagen-based biological structures, and investigating the optical properties of plasmonic nanostructures for light-driven control of matter. He is a recipient of a 2010 NSF CAREER Award, the 2014-2015 Dr. Martin Luther King, Jr. Visiting Associate Professor at MIT, the 2015 UIUC Dean's Award for Excellence in Research, the 2017 UIUC Everitt Award for Teaching Excellence, a Fellow of the OSA, and holds Senior Member positions in the IEEE, and SPIE. In addition, Dr. Toussaint is the PI and director of the recently awarded NSF nanomanufacturing node (the first award of its kind in the U.S.), and a recipient and PI of the 2017 Burroughs Welcome Fund Preterm Birth Initiative.
Hosted by EECS Prof. Hooman Mohseni