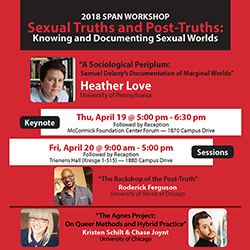 When: Friday, April 20, 2018
9:00 AM - 5:00 PM
Where: Kresge Hall, Trienens (Room 1-515), 1880 Campus Drive, Evanston, IL 60208 map it
Audience: Faculty/Staff - Student - Public - Post Docs/Docs - Graduate Students
Cost: Free
Contact: Eliot Colin

Group: The Sexualities Project at Northwestern (SPAN)
Category: Lectures & Meetings
Description:
What are the genealogies and possible futures of practices of documenting sexual worlds and experiences? This workshop explores the production of sexual truths as they emerge from the intertwining of knowledge and affect, documentation and imagination. We take up different conceptions of truth in relation to the sexual—as self-knowledge; as the product of scholarly methods and disciplinary practices; perhaps as a suspect claim in a "post-truth" moment—to consider the origins and legacies of distinctive approaches to perceiving the sexual.
Join us for a full day of sessions with guest speakers, faculty, and graduate students. Visit our webiste for the full schedule.
Lunch will be provided.