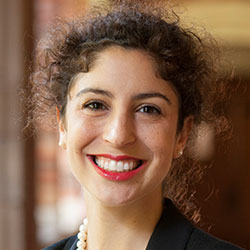 When: Friday, December 8, 2017
11:00 AM - 12:00 PM
Where: Ford Motor Company Engineering Design Center, Ford Design Studio, 2133 Sheridan Road, Evanston, IL 60208 map it
Audience: Faculty/Staff - Student - Public - Post Docs/Docs - Graduate Students
Contact: Brianna Mello 847.467.6558

Group: Electrical Engineering & Computer Science
Category: Lectures & Meetings
Description:
The EECS Department welcomes Dr. Rebecca Wexler, Visiting Fellow at Yale University.
Wexler will present a talk entitled "Life, Liberty, and Trade Secrets: Intellectual Property in the Criminal Justice System", on Friday, December 8 at 11:00 AM in the Ford Design Studio.
Abstract: The criminal justice system is becoming automated. At every stage, from policing to evidence to parole, machine learning and other computer systems guide outcomes. Widespread debates over the pros and cons of these technologies have overlooked a crucial issue: ownership. The developers of automated criminal justice technologies often claim that details about how the tools work are trade secrets. As a result, they refuse to disclose that information to criminal defendants or their attorneys. The introduction of intellectual property claims into the criminal justice system raises under-theorized tensions between life, liberty, and property interests. This talk will present a wide-ranging account of trade secret evidence in criminal cases, and offer a framework to address the tensions that result. In sharp contrast to an apparent consensus among trial courts, legislatures, and scholars alike, the talk will argue that trade secrets should not be privileged in criminal proceedings. A criminal trade secrets privilege is ahistorical. Given the rules and realities of criminal procedure, the privilege is at once particularly harmful and also unnecessary in criminal cases. And compared to substantive trade secrets law, the privilege overprotects intellectual property. Further, privileging trade secrets in criminal cases fails to serve the theoretical purpose of either trade secrets law or of privilege law. The trade secrets inquiry sheds new light on how evidence rules do, and should, function differently in civil and criminal cases.
Bio: Prof. Rebecca Wexler works on the intersection of information law, technology, and criminal justice. She focuses on evidence law, criminal procedure, privacy and intellectual property protections surrounding new data-driven criminal justice technologies. Rebecca's writing has appeared or is forthcoming in The Stanford Law Review, The Berkeley Technology Law Journal, The Yale Law Journal Forum, and The Yale Journal of Law & Technology. Her work challenging the trade secret evidentiary privilege in criminal proceedings has appeared in The New York Times, Washington Monthly, Slate, and NPR's The Takeaway. Rebecca has worked as a Lawyer-in-Residence at The Data and Society Research Institute; a Yale Public Interest Fellow at The Legal Aid Society's criminal defense practice; a Justice Stevens Fellow at the Electronic Frontier Foundation; a Visiting Scholar at the UC Berkeley School of Law Human Rights Center; and a Visiting Scholar at Harvard University. She is a graduate of Harvard College, Cambridge University, and Yale Law School, and a member of the New York bar. Rebecca is currently a law clerk to the Honorable Pierre N. Leval of the United States Court of Appeals for the Second Circuit.
Hosted by: CS Division