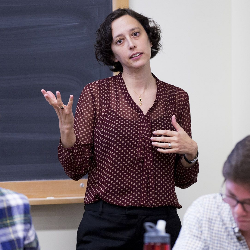 When: Monday, April 16, 2018
12:00 PM - 1:30 PM
Audience: Faculty/Staff - Student - Post Docs/Docs - Graduate Students
Cost: Free
Contact: Danny Postel

Group: Middle East and North African Studies
Co-Sponsor(s):
Keyman Modern Turkish Studies (Buffett Institute)

Category: Lectures & Meetings
Description:
Why do some ethno-national groups live peacefully with the states that govern them, whereas others develop into serious threats to state authority? Through a comparative historical analysis, Senem Aslan Keyman compares the evolution of Kurdish mobilization in Turkey with the Berber mobilization in Morocco by looking at the different nation-building strategies of the respective states. Using a variety of sources, including archival documents, interviews, and memoirs, Aslan emphasizes the varying levels of willingness and the varying capabilities of the Turkish and Moroccan states to intrude into their citizens' lives. She argues that complex interactions at the ground level — where states have demanded changes in everyday behavior, such as how to dress, what language to speak, what names to give children, and more mundane practices — account for the nature of emerging state-minority relations. By taking the local and informal interactions between state officials and citizens seriously, this study calls attention to the actual implementation of state policies and the often unintended consequences of these policies.
Senem Aslan is Associate Professor of Political Science at Bates College and will be Spring 2018 Visiting Professor in the Keyman Modern Turkish Studies Program, Buffett Institute for Global Studies, Northwestern. Her book Nation-Building in Turkey and Morocco: Governing Kurdish and Berber Dissent was published by Cambridge University Press in 2014. She teaches courses on Middle East politics, state-building, and nationalism. She was a postdoctoral fellow in the Department of Near Eastern Studies at Princeton University between 2008 and 2010. She has published articles in the International Journal of Middle East Studies, Nationalism and Ethnic Politics, and the European Journal of Turkish Studies. Her recent research focuses on the politics of symbolism and imagery in Turkey.
This event is co-sponsored by the Keyman Modern Turkish Studies Program, Buffett Institute for Global Studies.