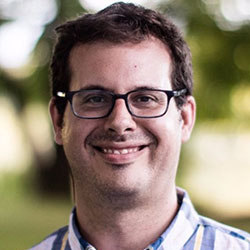 When: Wednesday, January 17, 2018
2:00 PM - 3:00 PM
Where: Ford Motor Company Engineering Design Center, ITW Room, 2133 Sheridan Road, Evanston, IL 60208 map it
Audience: Faculty/Staff - Student - Public - Post Docs/Docs - Graduate Students
Contact: Brianna Mello

Group: Electrical Engineering & Computer Science
Category: Lectures & Meetings
Description:
The EECS Department welcomes Prof. Nick Diakopoulos, Assistant Professor in the School of Communication at Northwestern University.
Diakopoulos will present a talk entitled "Journalistic Data Mining" on Wednesday, January 17 at 2:00 PM in Ford ITW Room.
Abstract: Data mining and machine learning techniques are now used throughout the news media to extract editorial value from massive stores of data and documents. Computation provides a sixth-sense for journalists to scan for news at scale as streams of data are monitored and mined in real-time, searching for alerts to trigger to reporters and editors. In investigative journalism, machine-learned classifiers sift through thousands of documents to identify the most newsworthy, while similarity algorithms help connect the dots and orient journalists towards the most promising leads. Curation algorithms enhance journalists' ability to vet, verify, and refine social media content editorially before publication. This talk will describe a range of journalistic use-cases and tasks that may benefit from the application of data mining and machine-learning techniques. The risk, caveats, and appropriate ethical deployment of these technologies within journalistic work will be discussed, as will research challenges and opportunities that arise from the application domain.
Bio: Prof. Nicholas Diakopoulos is an Assistant Professor in the Northwestern University School of Communication Department of Communication Studies. He is also a Tow Fellow at Columbia University School of Journalism, and Associate Professor II at the University of Bergen Department of Information Science and Media Studies. His research is in computational and data journalism with emphases on algorithmic accountability and social computing in the news. He is co-author of the 6th Edition of Designing the User Interface, co-editor of a forthcoming book on Data-Driven Storytelling, and is under contract with Harvard University Press to write a monograph on automation in the news media. He received his Ph.D. in Computer Science from the School of Interactive Computing at Georgia Tech where he co-founded the program in Computational Journalism.

Hosted by EECS Prof. Larry Birnbaum