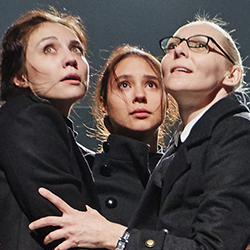 When: Saturday, March 10, 2018
2:00 PM - 5:00 PM
Where: Wirtz Center for the Performing Arts, Ethel M. Barber Theater, 30 Arts Circle Drive, 1949 Campus Drive; 10-30 Arts Circle Drive, Evanston, IL 60208 map it
Audience: Public
Cost: $20 general public,
$16 NU Employee,
$10 full-time student (Under 30 with current ID),
$8 Children
Contact: Wirtz Center Box Office 847.491.7282

Group: Virginia Wadsworth Wirtz Center for the Performing Arts
Category: Fine Arts
Description:
Timofey Kulyabin is one of the most prominent directors on the Russian theater scene today. His operas and plays have been performed on the stages of the Bolshoi Theatre, Moscow's venerable Theatre of Nations and, overseas in Vienna and Paris. In THE THREE SISTERS Kulyabin has taken this classic drama and reinvented it as an epic parable about finding harmony through suffering. The entire cast, save for one, communicate throughout the performance solely in sign language. By doing so, the selfishness, isolation and lack of mutual understanding are dangerous and laden with disaster, the characters defenseless against a huge "sounding" world. A revelation of experimental theater that miraculously remains entirely Chekhovian.
Saturday, March 10 at 2PM
Ethel M. Barber Theater
By Anton Chekhov
Directed by Timofey Kulyabin
A Red Torch Theatre production
Box Office: 847-491-7282
WIRTZ.NORTHWESTERN.EDU
Part of the STAGE ON SCREEN series.