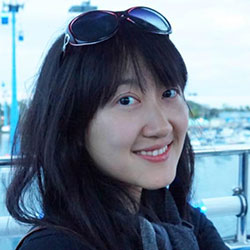 When: Monday, February 12, 2018
2:00 PM - 3:00 PM
Where: Ford Motor Company Engineering Design Center, ITW Room, 2133 Sheridan Road, Evanston, IL 60208 map it
Audience: Faculty/Staff - Student - Public - Post Docs/Docs - Graduate Students
Contact: Brianna Mello

Group: Electrical Engineering & Computer Science
Category: Lectures & Meetings
Description:
The EECS Department welcomes Xi He, Ph.D. Candidate, CS Dept. at Duke University.
He will present a talk entitled "Leave No Trace - Personal Data with Provable Privacy Guarantees" on Monday, February 12 at 2:00 PM in Ford ITW Room.
Abstract: Companies such as Google or Lyft collect a substantial amount of data about their users to provide useful services. The release of these datasets for general use can enable numerous innovative applications and research. However, such data contains sensitive information about the users, and simple anonymization-based techniques have been shown to be ineffective to ensure users' privacy. These privacy concerns have motivated many leading technology companies and researchers to develop algorithms that collect and analyze data with formal provable privacy guarantees including differential privacy. This talk will first present our end-to-end practical systems that use differential privacy with real-world data to provide provable privacy guarantees while ensuring aggregate properties of the data are preserved for learning. Besides differential privacy, there exist many other provable privacy guarantees. I will show a unified framework that can (a) enhance a better understanding about these provable privacy guarantees; and (b) allow flexible trade-offs between privacy, accuracy, and performance, based on the application's requirements. I will also describe some exciting new research about provable privacy guarantees for handling advanced settings involving complex queries or datasets in emerging data-driven applications, and conclude with directions for future privacy research in big-data management and analysis.
Bio: Xi He is a Ph.D. student at Computer Science Department, Duke University. Her research interests lie in privacy-preserving data analysis and security. She has also received an M.S from Duke University and a double degree in Applied Mathematics and Computer Science from the University of Singapore. Xi has been working with Prof. Machanavajjhala on privacy since 2012. She has published in SIGMOD, VLDB, and CCS, and has given tutorials on privacy at VLDB 2016 and SIGMOD 2017. She received best demo award on differential privacy at VLDB 2016 and was awarded a 2017 Google Ph.D. Fellowship in Privacy and Security.

Hosted by CS Division