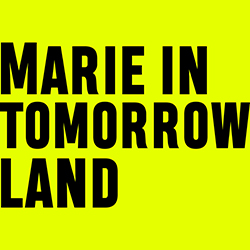 When: Saturday, February 24, 2018
12:00 PM - 2:00 PM
Where: Wirtz Center for the Performing Arts, Mussetter-Struble Theater, 1949 Campus Drive; 10-30 Arts Circle Drive, Evanston, IL 60208 map it
Audience: Faculty/Staff - Student - Public - Post Docs/Docs - Graduate Students
Cost: Free Admission, RSVP encouraged
Contact: Brannon Bowers 847.467.1172

Group: American Music Theatre Project
Category: Fine Arts
Description:
MARIE IN TOMORROW LAND is a musical collage in which Marie Curie journeys through the remains of a Chernobyl-inspired theme park and encounters much of America's troubled history with radioactivity along the way. Featuring a cast of women playing a kaleidoscope of Marie Curies, the piece explores the intersections between science and art, women and history, and kitsch and terror. By putting the story of Marie Curie and her work in dialogue with the American retro-futuristic experience of radiation, the piece explores the impact and aftermath of our radioactive existence.
MARIE IN TOMORROW LAND is written by the 2017 Jonathan Larson Award winners Maggie-Kate Coleman and Erato A. Kremmyda and directed by
Tony-nominated choreographer Sam Pinkleton. The reading will feature a cast of 13 Northwestern undergraduate students.
Limited seating available, please RSVP to guarantee admission.