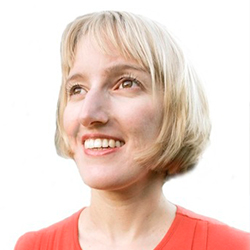 When: Thursday, February 22, 2018
2:00 PM - 3:00 PM
Where: Technological Institute, L440, 2145 Sheridan Road, Evanston, IL 60208 map it
Audience: Faculty/Staff - Student - Public - Post Docs/Docs - Graduate Students
Contact: Brianna Mello

Group: Electrical Engineering & Computer Science
Category: Lectures & Meetings
Description:
The EECS Department welcomes Dr. Tanja Aitamurto, Postdoctoral Scholar in the School of Engineering at Stanford University.
Aitamurto will present a talk entitled "Knowledge & Emotion in 360° Journalism" on Thursday, February 22 at 2:00 PM in Tech Room L440.
Abstract: The fundamental goals of journalism are to inform and engage people. New media technologies provide novel mechanisms for supporting the epistemic (knowledge-producing) and emotional functions of journalism, while also offering promise for enhancing journalistic norms. In this talk, I will discuss the impact of 360° video (cinematic virtual reality) on journalistic norms and the effects of epistemic and emotional aspects of 360° journalism on users. Although 360° video, with its omnidirectional view, can help journalists convey more information than traditional video can, empirical findings indicate that users do not necessarily learn more or are more emotionally engaged with 360° video. Moreover, 360° video creates challenges in the user experience, which can be addressed by design.
Bio: Dr. Tanja Aitamurto, PhD, is a postdoctoral scholar at the Crowdsourced Democracy Team at the School of Engineering at Stanford. Tanja examines, designs, and deploys new media technologies for informing, empowering, and connecting people. She studies the impact of new media technologies on human behavior and society. These technologies include crowdsourcing, virtual and augmented reality, and artificial intelligence applied in journalism and democratic processes. Her work has received several awards and has been published in academic venues such as New Media & Society, Digital Journalism, Human Factors in Computing Systems (CHI), and Computer-Supported Collaborative Work and Social Computing (CSCW). She has attended meetings and given talks about her research at the White House, the United Nations, OECD, and the Council of Europe. In her projects, Tanja often collaborates on in-the-wild experiments with media organizations and local and national governments. Prior to returning to academia, Tanja worked as a journalist specializing in military and defense, reporting in countries such as Afghanistan, Angola, and Uganda. See here for more about her work: www.tanjaaitamurto.com.

Hosted by CS Division & Medill School of Journalism