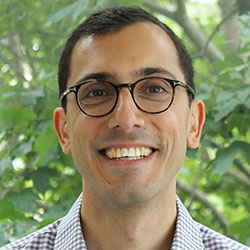 When: Wednesday, May 2, 2018
2:00 PM - 3:00 PM
Where: Ford Motor Company Engineering Design Center, ITW Room, 2133 Sheridan Road, Evanston, IL 60208 map it
Audience: Faculty/Staff - Student - Public - Post Docs/Docs - Graduate Students
Contact: Lana Kiperman 847.467.0028

Group: Electrical Engineering & Computer Science
Category: Lectures & Meetings
Description:
The EECS Department welcomes Prof. Pedram Khalili, Associate Professor of Electrical Engineering and Computer Science Dept. at Northwestern University.
Khalili will present a talk entitled "TBA", on Wednesday, May 2 at 2:00 PM in the Ford ITW Room.
Abstract: TBA

Bio: Prof. Pedram Khalili-Amiri works on developing the computing systems of the future, starting from novel nano-scale devices/materials that enable systems with unprecedented performance and energy efficiency. Much of his work involves devices that use both the spin and charge of electrons, also referred to as spintronics. Previously Pedram was an adjunct assistant professor in the department of electrical and computer engineering at UCLA from 2013-2017, where he co-led the memory program within the NSF TANMS center, focusing on development of electric-field-controlled magnetic memory with unprecedented energy efficiency. During 2009-2014, at UCLA he was project manager of two DARPA multi-institution programs, focusing on the development of spin-transfer-torque magnetic random access memory (STT-MRAM) and non-volatile logic (NVL), working with several major industry and university partners. These programs resulted in the world's fastest and lowest-power magnetic memory technologies at the time. In addition, since 2012 he has been co-founder and chief technology officer of Inston Inc., a startup company pioneering voltage-controlled MRAM for high-performance computing applications. His professional activities have included serving as a guest editor for Spin, and serving on the technical program committee of the Joint MMM/Intermag Conference.
His Research Interests include: Nanoelectronics, nano-magnetism and spintronics, nonvolatile memory and logic, magnetic tunnel junctions, spin waves, microwave magnetic devices, circuits and computing architectures enabled by emerging nano-devices.
Hosted by EECS Prof. Hooman Mohseni