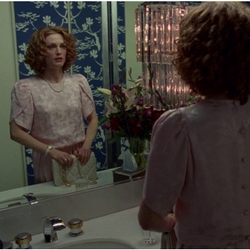 When: Friday, April 13, 2018
7:00 PM - 9:00 PM
Where: Block Museum of Art, Mary and Leigh, 40 Arts Circle Drive, Evanston, IL 60208 map it
Audience: Faculty/Staff - Student - Public - Post Docs/Docs - Graduate Students
Cost: Free and Open to All
Contact: Block Museum of Art 847.491.4000

Group: Block Museum of Art
Category: Fine Arts
Description:
Safe (Todd Haynes, 1995, UK/USA, 35mm, 119 min.)

Something is amiss beneath the immaculate and suffocating surfaces of Todd Haynes' celebrated parable, which has been read in many ways: as a postmodern melodrama, an allegory for the AIDS crisis of the 1980s, and an ecological cautionary tale. But the ambiguity of its premise—an upper-middle-class housewife (Julianne Moore) radically transforms her life after suffering from an undiagnosable "environmental illness"—also makes Safe a timeless reflection of the struggle of women to define their own self-image in the face of a toxic, oppressive, mediated society.
(FREE)
This film is part of the Block Cinema Series
Hank Willis Thomas: Different Image
April 13-May 31
The subversive appropriations of commercial imagery in Hank Willis Thomas's Unbranded series, on view in the Block's main gallery, serve as a launching pad for this series, which looks at the ways filmmakers have used cinema to explore—and to dismantle—socially-imposed images and identities of race, class, gender, and sexuality. The title of the series comes from Alile Sharon Larkin's singular, under-seen 1982 film A Different Image, in which a young Black woman confronts sexual objectification in both her environment and in her relationships with friends and coworkers. Images create structures of oppression in films as diverse as Todd Haynes' Safe (1995) and John Carpenter's They Live (1988), but what these films share above all is the pursuit of visual strategies for creating a disobedient, self-determined image.