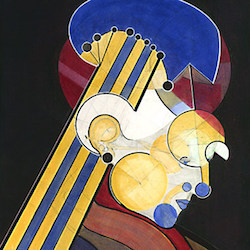 When: Thursday, May 10, 2018
8:30 AM - 4:00 PM
Where: Robert H Lurie Medical Research Center, Baldwin Auditorium, 303 E. Superior, Chicago, IL 60611 map it
Audience: Faculty/Staff - Student - Post Docs/Docs - Graduate Students
Cost: Free!
Contact: Myria Knox 312.503.7962

Group: Center for Bioethics and Medical Humanities Events
Category: Lectures & Meetings
Description:
This conference will highlight artistic explorations of health and medicine, and to examine how the arts inform medical practice and medical education. It is the second annual conference of the Center for Bioethics and Medical Humanities and the Master of Arts in Medical Humanities & Bioethics Program of Northwestern Medicine Feinberg School of Medicine, and aims to again share research and scholarship in our field across the Northwestern community.
The conference will feature a plenary address by Dr. Joel T. Katz, Associate Professor at Harvard Medical School. Dr. Katz uses visual arts as a catalyst for teaching broad areas of medicine, including physical examination, professionalism, humanism, communication, and team work. The conference will also feature the following panel sessions:
Making Art, Making Medicine
  • The Comics Code: Could Comics Help with Advanced Care Planning? – MK Czerwiec RN, MA
  • NeuroPoems: Poems Inspired by the drawings of Santiago Ramon y Cajal – Bonnie Salomon, MD
  • Using "The Force" in medicine: developing intuition, expertise, and tacit knowledge in medical decision-making – Natalie Achamallah, MD, MA
  • Active Hands, Open Heart: Art Therapy in Pediatric Palliative Care – Sabrina Derrington, MD, MBe
Thinking Medicine Through The Humanities
   • Semiotics of Medicine: An analysis of the SOAP note – Minjy Kang, MD, MA
   • United States of America vs. Jumana Nagarwala: The First Prosecution of Female Genital Cutting in the U.S. – Maliha Sayla, MD
   • Spoilers Ahead: Bioethics in "Black Mirror" – Anna Fenton-Hathaway, PhD
   • Physician-Facilitated Death for the Psychiatric Patient- Is the Somatic Analogy Applicable? – Susie Morris, MD, MA
Advancing Clinical Ethics
   • Promoting the Moral Agency of Bedside Nurses: The Nurse Ethics Champion Pilot Program at NMH – M. Jeanne Wirpsa, MA, BCC
   • Pathways to Chronic Critical Illness: A Qualitative Evaluation – Jacqueline Kruser, MD
   • Patient Driven Education: A novel approach to participant engagement in the research process – Stefanie McCormack
   • Parent-Centered Communication at Time of Pediatric Cancer Diagnosis: A Systematic Review – Cristiana Hentea, MD, MA candidate
   • ABCs in Pediatrics: Engaging Parents in the Development and Legally Valid Approaches to Biorepository Consent in Critically Ill Pediatric Patients – Erin Paquette, MD, JD, M. Bioethics
Developing Professional Identities through Arts and Humanities
   • Leveraging Art … to Bridge gaps around health inequities and access to healthcare career pipeline programming for minority and non-traditional students – Shaneah Taylor
   • Humanism in Interventional Radiology – Eric Keller, MA, MD candidate
   • The role of art in keeping patients at the heart of the business of healthcare – Amber Meriwether, JD, MA
   • Poetry for Transition: Bridging the Divide for New Physicians – Nina Ayala
Breakfast and lunch will be provided.
Full schedule will be posted on conference webpage (see "More Info" link above).
Attendees may also be interested in attending the Hippocrates Poetry & Medicine Symposium, which begins at 7pm and runs through the following evening.