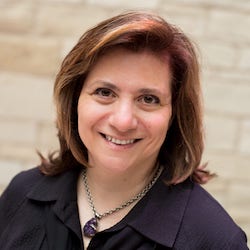 When: Thursday, October 11, 2018
5:00 PM - 6:30 PM
Where: Cahn Auditorium, 600 Emerson Street, Evanston, IL 60208 map it
Audience: Faculty/Staff - Student - Public - Post Docs/Docs - Graduate Students
Cost: Free and open to the public. RSVP is requested but not required
Contact: CIERA Astrophysics 847.491.8646

Group: CIERA - Annual Public Lecture Series
Category: Lectures & Meetings
Description:
Northwestern University's Center for Interdisciplinary Exploration and Research in Astrophysics (CIERA) Presents: THE CIERA 10th ANNUAL PUBLIC LECTURE
-- Free and open to the public.
-- Content tailored to a general audience -- all are welcome!
-- RSVP Requested
-- Campus parking lots are unrestricted in the evenings.
-- "Ask an Astronomer" after the lecture
-- Chance to win 2 free tickets to see Neil DeGrasse Tyson
Professor Vicky Kalogera
Daniel I. Linzer Distinguished University Professor in the Department of Physics & Astronomy
Director, Center of Interdisciplinary Exploration and Research in Astrophysics (CIERA) at Northwestern University.
Talk Title:
The NU Astronomy of Stars, Black Holes, and Cosmic Explosions
Event Description:
Celebrate TEN YEARS OF ASTRONOMY DISCOVERIES by the faculty, postdocs, and students of CIERA, Northwestern's astronomy research center. Learn how our understanding of the lives of stars and their influence on the Cosmos has changed over the past ten years. The story will range from how stars live and die, to how we study their remains with light and gravity, in order to untangle the evolution of the galaxy and Universe. The lecture will feature the core stories of how our work in CIERA has helped push those frontiers of understanding. Stay after the lecture for a special "Ask an Astronomer" meet-and-greet with Northwestern astronomers.
Image credit: Eileen Molony
To receive updates about this and other CIERA Events,
please subscribe to our e-mail list.