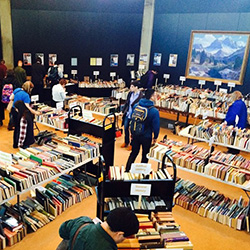 When: Wednesday, April 19, 2017
10:00 AM - 4:00 PM
Where: University Library, Gift Processing, basement, 1970 Campus Drive, Evanston, IL 60208 map it
Audience: - Faculty/Staff - Student - Public - Post Docs/Docs - Graduate Students
Contact: Toby Worscheck

Group: University Libraries
Category: Other
Description:
Looking for the art of Frida Kahlo, Archibald Motley, and Paul Gauguin, or fascinating biographies on Cleopatra, Oscar Wilde, E. E. Cummings, and Martin Luther King Jr.? You'll find them along with nearly 10,000 other books, comic books, and DVDs at Northwestern University Libraries' book sale.
Much anticipated by book enthusiasts and collectors, the library book sale features Northwestern University Press overstock, a large number of comic books, and especially impressive collections in art, fiction, and history. It will still take place at University Library, 1970 Campus Drive, Evanston, though for the first time the sale room is in our new Gifts Processing area in the basement.
Wednesday, April 19: Northwestern community day
Those with a valid WildCard or an alumni ID can shop from 10 a.m. to 4 p.m.
Thursday, April 20: Open to public
10 a.m. to 4 p.m.
Friday, April 21: "Buck-a-Bag Day" (open to public)
Bargain seekers can fill up a bag with books, comic books and DVDs for only $1 — or up to two boxes for just $2 apiece. (Bags and boxes provided; limit of two boxes per person.)
Until "Buck-a-Bag Day," hardcover books cost only $3 each; quality paperbacks $2; and mass-market paperbacks 50 cents each. Certain high-quality hardcovers are priced higher — but still at bargain prices.