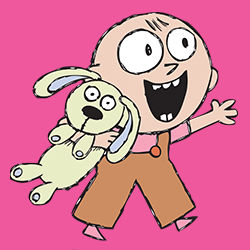 When: Saturday, March 10, 2018
11:00 AM - 12:00 PM
Where: Wirtz Center for the Performing Arts, Hal & Martha Hyer Wallis Theater, 1949 Campus Drive, 1949 Campus Drive; 10-30 Arts Circle Drive, Evanston, IL 60208 map it
Audience: - Public
Cost: Adult $12
Full-Time Student $10
NU Student $6/Adv. $10/Door
Contact: Wirtz Center Box Office 847.491.7282

Group: Virginia Wadsworth Wirtz Center for the Performing Arts
Category: Fine Arts
Description:
March 3 - 19, 2018
Hal & Martha Hyer Wallis Theater, 1949 Campus Drive
Book and Lyrics by Mo Willems
Music by Michael Silversher
Based on the book, Knuffle Bunny: A Cautionary Tale by Mo Willems
Directed by Kathryn Walsh
Trixie, her father, and her favorite stuffed bunny set off on a trip to the Laundromat. The trip brings wonder, excitement and joy to the lively toddler until she realizes that she has left her Knuffle Bunny back at the laundromat. Once Trixie finally makes her father understand the emergency, the two heroes set off an epic adventure to save her beloved Knuffle Bunny from the clutches of the mighty washing machine!
Based on the beloved Caldecott Honor-winning picture book, KNUFFLE BUNNY: A CAUTIONARY MUSICAL is filled with adventure, songs, and dancing laundry! Six-time Emmy Award winner, Mo Willems, teams up with Grammy Award-winning composer, Michael Silversher, to create this heart-warming and hilarious musical.
Recommended for ages 4-8yrs
Running time: 45mins
Performance Schedule
Friday, March 2 at 7:00PM
Saturday, March 3 at 11:00AM
Saturday, March 3 at 2:00PM – Relaxed Performance
Sunday, March 4 at 2:00PM
Friday, March 9 at 7:00PM
Saturday, March 10 at 11:00AM
Saturday, March 10 at 2:00PM
Sunday, March 11 at 2:00PM
Friday, March 16 at 7:00PM
Saturday, March 17 at 11:00AM
Saturday, March 17 at 2:00PM
Sunday, March 18 at 2:00PM
Ticket Pricing
Adult $12
Full-Time Student $10
NU Student $6/Adv. $10/Door
Single tickets available online June 16
Single ticket phone and in-person sales available September 19
Box Office: 847-491-7282 // wirtz.northwestern.edu
RELAXED PERFORMANCE
Imagine U is pleased to offer a relaxed performance for KUNFFLE BUNNY: A CAUTIONARY MUSICAL. This performance on Saturday, March 3 at 2:00PM has been adapted to provide a relaxed and safe environment for students with autism, learning differences, or other sensory needs, allowing every audience member to engage with the show in a way that works for them.
Modifications to the performance include:
Changes to light and sound cues to eliminate sudden changes and high volume effects.
A separate sensory room if students need a break from the performance.
Trained teaching artists with a background in sensory-friendly work will be on site.
Fidget toys and communication devices are welcome in the theatre.
A Social Story is available for download before the performance.