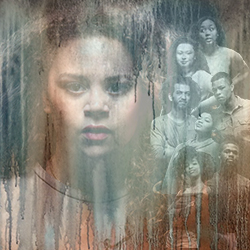 When: Thursday, October 12, 2017
7:30 PM - 9:30 PM
Where: Wirtz Center for the Performing Arts, Josephine Louis Theater, 20 Arts Circle Drive, 1949 Campus Drive; 10-30 Arts Circle Drive, Evanston, IL 60208 map it
Audience: - Public
Cost: Adult $25
Seniors (62+) $22
Area Educator $22
NU Faculty/Staff $20
Full-Time Student $10
NU Student $6/Adv. $10/Door
Contact: Wirtz Center Box Office 847.491.7282

Group: Virginia Wadsworth Wirtz Center for the Performing Arts
Category: Fine Arts
Description:
How far will fast, beautiful Oya go to make a mark in the world? Written by the Academy Award-winning writer of "Moonlight," this acclaimed play is an intoxicating story that charts a young girl's thrust into womanhood and her subsequent fall into the murky waters of life. The production will be featured as the centerpiece of the 2017 Black Arts Initiative International Conference: Temporalities and Territories, hosted by Northwestern University.
IN THE RED AND BROWN WATER
October 12 – 29, 2017
Josephine Louis Theater, 20 Arts Circle Drive
By Tarell Alvin McCraney
Directed by Henry Godinez and Jerrell L. Henderson
Please be advised this production contains strong language.
Part of the 17/18 Mainstage Subscription Package
Single tickets available online Sept 5, phone and in-person sales available Sept 19.
Performance Schedule
Thursday, October 12 at 7:30PM
Friday, October 13 at 7:30PM
Saturday, October 14 at 7:30PM
Sunday, October 15 at 2:00PM
Friday, October 20 at 7:30PM
Saturday, October 21 at 7:30PM
Sunday, October 22 at 2:00PM
Friday, October 27 at 7:30PM
Saturday, October 28 at 7:30PM
Sunday, October 29 at 2:00PM
Ticket Pricing
Adult $25
Seniors (62+) $22
Area Educator $22
NU Faculty/Staff $20
Full-Time Student $10
NU Student $6/Adv. $10/Door
Box Office: 847-491-7282
WIRTZ.NORTHWESTERN.EDU