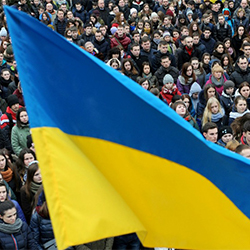 When: Friday, March 2, 2018
12:00 PM - 1:00 PM
Where: 1902 Sheridan Road, Evanston, IL 60208 map it
Audience: - Faculty/Staff - Student - Public - Post Docs/Docs - Graduate Students
Contact: Iszy Licht 847.467.2770

Group: Buffett Institute for Global Studies
Category: Global & Civic Engagement
Description:
Drawing on a survey and experimental games conducted with university students at an elite legal academy in Ukraine, this study compares the attitudinal, behavioral, and demographic traits of students aspiring to become judges and prosecutors with their counterparts seeking to become defense attorneys or commercial lawyers. Jordan Gans-Morse finds evidence that students with ambitions to serve the judiciary display more willingness to cheat or bribe in experimental games as well as lower levels of altruism. These findings indicate that corruption in some societies results at least in part from the self-selection into government institutions of citizens with a higher propensity to seek profit from illicit activities.
Jordan Gans-Morse conducts research on corruption, the rule of law, property rights, and political and economic transitions. Although his primary regional expertise is the former Soviet Union, he also has conducted research on Central-Eastern Europe and Latin America. He is the author of Property Rights in Post-Soviet Russia: Violence, Corruption, and Demand for Law (Cambridge University Press). He received his Ph.D. from UC Berkeley in 2011. Prior to his doctoral studies, he was a Junior Fellow at the Carnegie Endowment for International Peace in Washington, DC, a recipient of two US State Department fellowships to Moscow, and a Resident Director for the American Councils for International Education's student exchange program in St. Petersburg, Russia.
The Buffett Institute Faculty & Fellows Colloquium brings together an interdisciplinary audience to build awareness of global research on campus. This series promotes dialogue on scholarship and develops a deeper sense of community among Buffett Institute affiliates. Each meeting lasts one hour; lunch is provided. Due to space constraints, we will not admit attendees once the space reaches capacity.