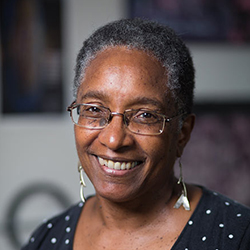 When: Wednesday, February 21, 2018
12:00 PM - 1:15 PM
Where: 620 Library Place, Room 106, Evanston, IL 60208 map it
Audience: - Faculty/Staff - Student - Public - Post Docs/Docs - Graduate Students
Contact: Program of African Studies 847.491.7323

Group: Program of African Studies
Co-Sponsor(s):
International Studies

Category: Lectures & Meetings
Description:
Join the Program of African Studies for our weekly lunch and lecture.
Embracing Happenstance: An Academic Journey
Sandra Greene, Stephen '59 and Madeline '60 Anbinder Professor of African History and Chair, Department of History, Cornell University
Abstract:
Many academics spend their entire careers examining a particular topic in all its variations. There are scholars, for example, who focus solely on gender or on the American civil war. Others choose to explore a more wide range of topics and themes. As someone in the latter group, my work has ranged from a focus on gender and ethnic relations, to an examination of the history sacred sites, to analyses of West African narratives of slavery. Despite these seemingly diverse topics, it is still possible to identify some unifying interests that link these different areas of enquiry. Thus, as part of its 70th anniversary celebration, I will share how the Program of African Studies and the people who happened to be at Northwestern at the time I studied there influenced my own theoretical and methodological approaches to the topics I have examined throughout my career.
Bio:
Sandra E. Greene is the Stephen '59 and Madeline '60 Anbinder Professor of African History at Cornell University and an elected member of the American Academy of Arts and Sciences as well as the Ambrosiana Academy in Milan, Italy. Her research interests have ranged widely, from the history of gender and ethnic relations, to the history of religious sacred sites and indigenous slavery in Africa. Her single authored books include Gender, Ethnicity and Social Change on the Upper Slave Coast (1996), Sacred Sites and the Colonial Encounter (2002), West African Narratives of Slavery (2011) and Slave Owners of West Africa: Decision-making in the Age of Abolition (2017). Her co-edited collections include the five-volume New Encyclopedia of Africa (2008), The Bitter Legacy: African Slavery Past and Present (2013), African Voices on Slavery and the Slave Trade, Vols. 1 and 2 (2013 and 2016), and African Slaves, African Masters: Politics, Memories, Social Life (2017). She is also the author of many articles in various journals and edited collections. Her research has been supported most recently by Cornell University, the National Humanities Center where she held the John Hope Franklin Senior Researcher Fellowship, and by the Mellon Foundation.
Among the courses she teaches are: "African Economic Development Histories" (which explores the history of economic development in Africa from precolonial times to the present as understood by historians, economists, and political scientists); "West Africa and the West" (which explores the history of West Africa's relations with Europe and the Americas during the era of the Atlantic slave trade); and "Enslaved Then and Now". She has also served in a number of administrative positions including Chair of the History Department at Cornell University (2001-2005) and (2016 to present) as well as President of the African Studies Association (USA).