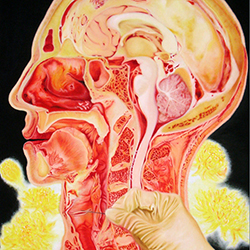 When: Friday, March 1, 2019
9:00 AM - 4:45 PM
Where: NUPOC, Suite 1100, 680 North Lake Shore Drive, Chicago, IL 60611
Audience: - Faculty/Staff - Student - Public - Post Docs/Docs - Graduate Students
Cost: FREE
Contact: R. J. Garrick, PhD 312.503.5700

Group: Northwestern University Prosthetics-Orthotics Program (NUPOC)
Category: Fine Arts
Description:
Yu-Hui Huang is a medical artist in her final year of medical training. Trained in medical illustration and clinical anaplastology, she seeks to combine art, medicine and technology to improve patient care and therapeutic outcomes. This exhibit includes 5 medical illustrations, 3 facial prostheses and digital images of her original works.
Ms. Huang produces illustrations for medical education and research. She explores how art and technology, especially medical imaging and 3D printing, can improve prosthetic treatment and outcomes for patients. Using medical imaging data, Ms. Huang 3D prints anatomical models and surgical guides that contribute to patient/provider education. Ms. Huang also creates anatomical and surgical guides that enable clinicians to simulate procedures prior to surgery. Simulations improve surgical skills and patient outcomes.
During her medical training at UIC, Ms. Huang revived the College of Medicine Artist Group and the Body Electric: UIC College of Medicine Literary Arts Journal, which provides creative outlets where students can share their art with peers and patients.
Ms. Huang frequently is commissioned to produce medical illustrations. Her work has been published in numerous journals and has been shown in the International Museum of Surgical Science, National Museum of Health + Medicine, American College of Physicians, Radiological Society of North America, Illinois Board of Higher Education, Richard J. Daley Library and many other locations.