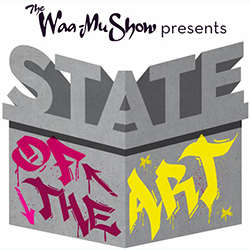 When: Wednesday, July 1, 2020
All day
Where: Online
Webcast Link
Audience: Faculty/Staff - Student - Public - Post Docs/Docs - Graduate Students
Cost: Free
Contact: The Waa-Mu Show

Group: Virginia Wadsworth Wirtz Center for the Performing Arts
Category: Fine Arts
Description:
Dear Supporters,
As you know, due to COVID-19 we were unable to have our traditional live performance of The Waa-Mu Show in Cahn Auditorium to continue The Waa-Mu Show tradition. However, we are very excited to share a link to the virtual final reading presentation we held of "State of the Art," The 89th Waa-Mu Show in May for our families, faculty and mentors.
Since 1929, The Waa-Mu Show has been a cornerstone at Northwestern, a tradition that has stood the test of time. Until now, The Waa-Mu Show has only been disrupted due to World War II. The current state of the world truly tested the saying "the show must go on" and we are pleased we succeeded in delivering the first of its kind The Waa-Mu Show presentation.
We are grateful and proud we did not abandon our primary mission to educate the vanguard of new music theatre artists. Our team completed our final script and score through virtual workshop rehearsals, thus preserving the process we all value so deeply, even if the product did not culminate with a live performance with an in-person audience. We hope you enjoy this recorded reading.
We have been overwhelmed by the commitment and bravery of the Waa-Mu community throughout this shifting process and we cannot thank you enough for supporting this production in all of its forms. We raise a toast to all the Waa-Mu shows past who have gotten us to where we are today, and we are optimistic for all the Waa-Mu magic yet to come.
With lots of Waa-love,
The Co-Chairs 
Emma Griffone, Leo Jared Scheck, Jon Toussaint, and Olivia Worley

~
"State of the Art" follows a covert group of artists vandalizing world-renowned pieces of street art in a not-so-distant future metropolis. When the mayor's misfit child crosses paths with the vandals, the city elite find themselves caught between their dream for the city to take its place on the national stage and the truth behind these young citizens' acts of resistance.