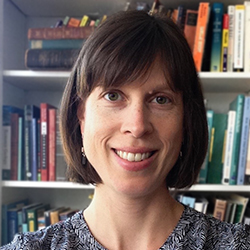 When: Wednesday, February 10, 2016
12:00 PM - 1:00 PM Central
Where: University Hall, Hagstrum Room 201, 1897 Sheridan Road, Evanston, IL 60208 map it
Audience: Faculty/Staff - Student - Public - Post Docs/Docs - Graduate Students
Contact: Janka Pieper (847) 467-5344

Group: Native American and Indigenous People Lecture Series
Co-Sponsor: Global Health Studies

Category: Academic
Description:
Kelly Wisecup, Assistant Professor, Department of English, Northwestern University
Long description: Between 1616 and 1620, diseases swept throughout New England, devastating Native American communities and killing up to 90-95 percent of the indigenous people living in the area. When English colonists began to arrive in the 1620s, they interpreted the epidemics as a providential sign that they were intended to settle in New England and that a divine force had "emptied" the land for them. Scholars later extended this argument, by describing post-epidemic New England as a "virgin land," and by lamenting that no Native histories of the epidemics survived to provide insight into the experiences of disease. This talk offers new readings of histories of the epidemics by tracing Native responses to the epidemics, as recorded in several colonial texts. It shows that, despite colonial and scholarly narratives of disappearance, New England Native people employed various strategies for interpreting and responding to the epidemics and the colonists who followed.
This talk is part of the 2015-2016 One Book One Northwestern event series. It is organized by International Program Development / Global Health Studies, and co-sponsored by the Department of History and Department of English.