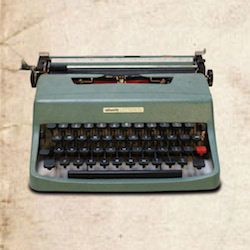 When: Friday, April 29, 2016
4:00 PM - 5:30 PM Central
Audience: Faculty/Staff - Student - Public - Post Docs/Docs - Graduate Students
Contact: Prof. Domietta Torlasco (847) 491-8269

Group: Department of French and Italian
Category: Academic
Description:
With Karen Pinkus
Professor of Italian and Comparative Literature, Department of Romance Studies
Cornell University
HAND / MACHINE / WRITING / POLITICS IN 1960s ITALY
Italy of the 60s--can we say "the last days of analogue"?--was a fruitful laboratory for thinking (political) autonomy and (factory) automation. Italian theorists "discovered" the young Marx and worked through a relation between labor and machines while cyberart flourished and intellectuals celebrated machinic writing. The optimism of this period may seem naive today if inserted into a genealogy that moves through the digital, postfordist labor, globalization, accelerationism and so on. We might well critique the Italian situation as a kind of benevolent or soft capitalism that has now evolved into (the perhaps oxymoronic) "sustainable development"; or as "good design" that has evolved into the "design thinking" of engineers. What can we learn from 60s Italy--beyond nostalgia--that could be productive today?