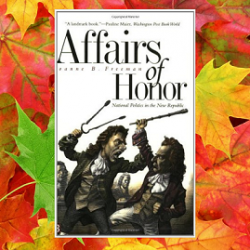 When: Thursday, October 13, 2016
5:00 PM - 6:30 PM Central
Where: 620 Lincoln Street, #218 Conference Room, Evanston, IL 60208 map it
Audience: Faculty/Staff - Post Docs/Docs - Graduate Students
Contact: Ann Kelchner 847.467.2207

Group: Center for Legal Studies
Category: Academic
Description:
The Legal Studies/ABF Grad/Faculty reading group for Fall 2016 will be:
Thursday, October 13, 2016
5:00 - 6:15pm
620 Lincoln Street Conference Room, #218.
The book we'll be discussing is Affairs of Honor: National Politics in the New Republic by Professor Joanne B. Freeman – the book that Lin-Manuel Miranda based the song "Ten Duel Commandments" on (listen here.)
This volume presents a major reassessment of the tumultuous culture of politics on the national stage during America's earliest years, when Jefferson, Burr, Hamilton, and other national leaders struggled to define themselves and their role in the new nation. Joanne Freeman shows how the rituals and rhetoric of honour provided ground rules for political combat; how gossip, print warfare, and duelling became accepted political weapons; and how the founders jostled for political power in the nascent republic.