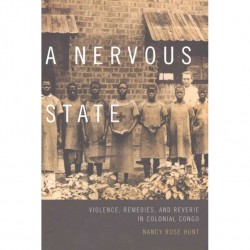 When: Thursday, November 3, 2016
2:00 PM - 4:00 PM Central
Where: 620 Library Place, 1st Floor Conference Room, Evanston, IL 60208 map it
Audience: Faculty/Staff - Student - Public - Post Docs/Docs - Graduate Students
Contact: Program of African Studies 847.491.7323

Group: Program of African Studies
Category: Lectures & Meetings
Description:
Join PAS for a special Thursday speaker (a bonus to our normal Wednesday lecture series). 
The lecture will focus on the author's recently published book, A Nervous State: Violence, Remedies, and Reverie in Colonial Congo.
View and download selected chapeters.
Speaker: Nancy Rose Hunt, Professor of History & African Studies, University of Florida
Title: Nervous States, Reverie, and a Colonial History: Violence and Moods in the Congo
Abstract: In A Nervous State, I consider the afterlives of violence and harm in King Leopold's Congo Free State. Discarding catastrophe as narrative form, I instead work to bring alive a history of colonial nervousness. This mood suffused medical investigations, security operations, and vernacular healing movements. Using a heuristic of two colonial states—one "nervous," one biopolitical—the analysis alternates between scientific research into birthrates, gonorrhea, and childlessness, and the securitization of subaltern "therapeutic insurgencies." By the time of the developmentalist 1950s, a shining infertility clinic and bleak penal colony stood close by in a region that formerly held a grisly rubber concession. I strive to make this history burst forth with layers of perceptibility and song, while conveying everyday surfaces and daydreams of subalterns and colonials alike. Congolese endured and evaded corvées and medical and security screening. With sharp wits, they stirred unease through healing, wonder, memory, and dance. By its close, this capacious medical history sheds light on Congolese sexual and musical economies, on practices of distraction, urbanity, and hedonism. In my lecture, I will give a sense of these surfaces, daydreaming, and moods, as well as how concepts from Georges Canguilhem (a shrunken milieu), Georges Balandier (colonial pathologies), and Gaston Bachelard (reverie) yield a new framework for teasing out complexities in a colonial history.
Bio: Nancy Rose Hunt (Ph.D., Wisconsin-Madison, 1992; B.A., Chicago, 1980) joined the University of Florida in 2016 after 19 years teaching history, anthropology, and "Theory for Historians" at the University of Michigan. Her work focuses on health, medicine, reproduction, and madness in Africa, with attention to harm and subaltern politics on a global scale. A Nervous State: Violence, Remedies, and Reverie in Colonial Congo (Duke, 2016) considers connections among nervous violence, reproductive medicine, therapeutic insurgencies and their policing, and subaltern daydreaming. Nervousness as a theme has taken her toward forms of madness and a project on comparative imperial approaches to psychiatry in Africa. Another unfolding book project is a history of African children's drawings and their collectors. Hunt's A Colonial Lexicon: Of Birth Work, Medicalization, and Mobility in the Congo (Duke, 1999) innovated as ethnographic history and received the Herskovits Prize. Her articles have appeared Past & Present, The Lancet, History Workshop Journal, Somatosphere, Africa, Journal of African History, and Contemporary Anthropology. For four years, she co-edited Gender & History. After studying poststructuralist theory at Chicago, she worked as an archivist in distinguished institutions in Chicago and Springfield, Illinois (1978-86), redirecting acquisition work toward the afterlives of the 1960s in a university archive she directed. These sensibilities and skills—being attentive to provenance, layers, immediacy, the ordinary—resurfaced in many creative projects since, whether in field research or teaching in Africa, digital history, conserving African street comics, or making ethnographic films. For three years in Accra, she directed a transnational, qualitative research training seminar in the medical humanities; it encouraged all the Ghanaian and Michigan graduate student and doctor participants to collaborate, document, and also write creative ethnographic stories. Generous fellowships from the Social Science Research Council, the Fulbrights, the Ford Foundation, the Wisseschaftskolleg, Paris' Institute of Advanced Study, and the Netherlands Institute for Advanced Studies enabled Hunt to undertake and write up her sustained periods of fieldwork in and near Bujumbura, Accra, Kisangani, Mbandaka, and Kinshasa.