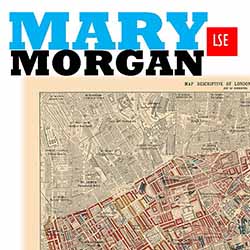 When: Monday, April 17, 2017
4:00 PM - 5:30 PM
Where: University Hall, Hagstrum Room, UH 201, 1897 Sheridan Road, Evanston, IL 60208 map it
Audience: Faculty/Staff - Student - Public - Post Docs/Docs - Graduate Students
Cost: OPEN FREE
Contact: Natasha O Dennison 847.491.3525

Group: Science in Human Culture Program
Category: Lectures & Meetings
Description:
MARY MORGAN: Economic History, London School of Economics and Political Science
"Observing Poverty, Measuring the Good Life"
Description: Socio-economic measurements good for scientific purposes are not necessarily good for policy purposes, political action, or popular usage. And there are trade-offs or tensions between different forms of measurements created for such different purposes in these different communities. These differences are evident in the recent history of measuring 'development', and in the switch from earlier forms of aggregate measurements to the dis-aggregated array of indicators found in the UN's Sustainable Development Goals. These latter look very strange as a contemporary scientific measuring project, but have parallels in one of the earliest social scientific attempts to observe poverty, namely Charles Booth's survey and maps of poverty in late 19th century London. This comparison illuminates more exactly how and why different measurements of poverty are good for different things - some for figuring out causes and so designing interventions, and others for mobilizing action via their rhetorical power. Significantly, some, but not all, measuring strategies and kinds of numbers offer possibilities to create 'voice' for those measured and so, potentially, a bottom-up route for achieving 'the good life for all'.
Bio: Mary S. Morgan is professor of history and philosophy of economics at the London School of Economics and the University of Amsterdam. She has published widely on topics ranging from statistics to experiments to narrative, and from social Darwinism in late-nineteenth-century America to game theory in the Cold War. Her major works include The History of Econometric Ideas (1990) and Models as Mediators (1999 with Margaret Morrison), and her account of scientific modelling is forthcoming in The World in the Model. She is currently engaged in the research project "Re-thinking Case Studies Across the Social Sciences" as a British Academy–Wolfson research professor.
reception to follow