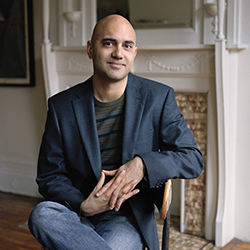 When: Monday, November 7, 2016
7:00 PM - 9:00 PM
Where: Wirtz Center for the Performing Arts, Josephine Louis Theater, 10 Arts Circle Drive., 1949 Campus Drive; 10-30 Arts Circle Drive, Evanston, IL 60208 map it
Audience: Faculty/Staff - Student - Public - Post Docs/Docs - Graduate Students
Cost: FREE
RSVP please
Contact: Rosie Roche

Group: Arts Circle
Co-Sponsor(s):
Middle East and North African Studies

Category: Fine Arts
Description:
Pulitzer Prize-winning writer Ayad Akhtar in conversation with Jeff-award winning director Kimberly Senior.  Akhtar's new play JUNK: The Golden Age of Debt takes us back to the hotbed of the '80s and offers an origin story for the world that finance has given us. The talk will be illustrated with scenes from the play, performed by theatre students and directed by Kimberly Senior. They will discuss the issues in this work and refer to their collaboration on the Pulitzer Prize winning play Disgraced, looking at people's indebtedness to their family histories and inherited identities and the pull between countries of origin and countries of citizenship.
Ayad Akhtar is a novelist, playwright, actor and screen writer whose work addresses the identity politics of belonging and acceptance.
Kimberly Senior is the director of seven productions of Ayad Akhtar's DISGRACED including its Tony nominated, Broadway production. She also developed Akhtar's play THE WHO AND THE WHAT in its first two productions. She is the recipient of the 2016 TCG Alan Schneider Award.