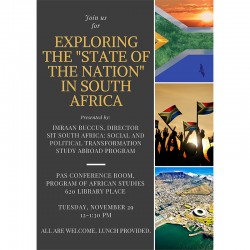 When: Tuesday, November 29, 2016
12:00 PM - 1:30 PM
Where: 620 Library Place, 1st Floor Conference Room, Evanston, IL 60208 map it
Audience: Faculty/Staff - Student - Public - Post Docs/Docs - Graduate Students
Cost: Free - lunch provided
Contact: Program of African Studies 847.491.7323

Group: Program of African Studies
Category: Lectures & Meetings
Description:
Imraan Buccus will talk about the student-led 'Fees Must Fall' protest movement and reflect on the ongoing crisis in South African's universities as well as the state of race relations in the country.
Title: Exploring the "State of the Nation" in South Africa
Speaker: Imraan Buccus, Academic Director, SIT South Africa
Mr. Buccus has an undergraduate degree in education and a master's degree in social policy from the Institute for Social and Economic Research at the University of KwaZulu-Natal (UKZN) in South Africa. During the period of apartheid, he was active in student politics, having served on forums linked to the Student Representative Council (SRC). He began his PhD as a Ford Fellow in development studies at Radboud Nijmegen University in the Netherlands and is currently a PhD fellow at UKZN. He has been a lecturer in political science at UKZN and is currently a research fellow in the university's School of Politics. He is widely published in academic journals and book chapters in the areas of participatory democracy, poverty, and civil society. Mr. Buccus is the former editor of Critical Dialogue, a journal of public participation in review, and the current editor of Democracy Dialogue.

Mr. Buccus has experience in the civil society sector, having served in research and policy NGOs for many years. He was involved in a number of international research projects and co-authored the National Framework on Public Participation for the South African government. During his time at the Centre for Public Participation, he led an initiative to bring policymaking spaces closer to ordinary people and also led a project to assess the state of participatory democracy in Namibia. He has wide-ranging experience working with various donor agencies including the Ford Foundation, NiZA, EU, Kellogg Foundation, and the Open Society Foundation.
Mr. Buccus has worked as academic coordinator of the Workers College, a progressive experiential education college for workers from the trade union movement, where he developed a passion for experiential education and its personal and academic developmental potential. In 2008, he was an Open Society Foundation Media Fellow, and in 2009 he appeared on the prestigious Mail & Guardian list of South Africa's 200 Leading Young South Africans. He is currently a columnist for Durban's popular paper Mail & Guardian and is often called upon by television and radio stations to offer political analysis. In 2011, he was part of the South African Broadcasting Corporation's team of election analysts.

Mr. Buccus has traveled extensively in Africa, Europe, the Middle East, and Southeast Asia. He has also served as academic director of various SIT Study Abroad summer programs since 2010, having run both SIT's World Cup program in 2010 and, since 2011, SIT's summer Education and Social Change program.