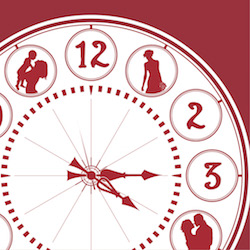 When: Friday, February 17, 2017
4:15 PM - 5:30 PM
Where: Crowe Hall, 2-130, 1860 Campus Drive, Evanston, IL 60208 map it
Audience: Faculty/Staff - Student - Public - Post Docs/Docs - Graduate Students
Cost: $0
Contact: Phil Hoskins 847.491.5490

Group: Department of French and Italian
Category: Academic
Description:
Andromaque's Queer Animacies:
Temporality and Biopolitics On the Early Modern Stage
a lecture by Jennifer E. Row, Assistant Professor of Romance Studies, Boston University
Abstract:
In his work on biopolitics and the rise of disciplinary societies, Michel Foucault highlights how the early modern period was marked by a decisive shift in the strategies and objectives of political power. Biopower sought to govern not via the threat of death, but rather through the calculated flourishing or strategic diminishing of life's capacities. One essential but overlooked component of this management is that biopower was invested the very time of life, choreographing its speed and tempos, its direction and orientation. Temporal sensations and modes of feeling, in this light, are not merely akin to sexuality: they constitute the very means through which the body's energies, desires, and capacities are funneled into (re)productive activities. Drawing upon the history of chronometry, performance studies and queer theory, Dr. Jennifer Row argues that neoclassical French theater was a prime site for cultivating specific sexual and temporal norms in the population: acceptable rhythms of seduction, mourning, reproduction. However, although these dramas by Racine and Corneille seize on new modes of staging time, they also attest to fissures and possibilities that elude the normalization of time taking shape in this period. In the case study offered by Jean Racine's Andromaque (1667) Dr. Row reads the delays presented by Andromaque not only as a brake against reproductive futurity but also as a crucial means of staging a richly speculative queer object attachment to ashes (cendres).
Jennifer Row's research focuses on seventeenth-century French and English literature with a special interest in queer theory, theater studies, critical theory and rhetoric. She is completing a book manuscript entitled Ephemeral Velocity: Inarticulate Erotics on the Early Modern Stage, exploring the ways that early modern temporal norms govern the field of sexual expression in the theater. Her work has appeared in in the Canadian Review of Comparative Literature/ Revue canadienne de littérature comparée as well as in the edited volume Autour de l'extrême littéraire. She teaches courses in seventeenth century French studies, dramatic literature, sexuality/queer studies (historiography and the archive), and critical theory.