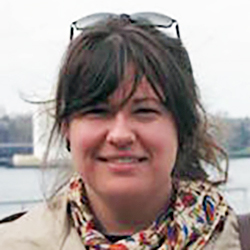 When: Wednesday, April 26, 2017
12:00 PM - 1:15 PM
Where: 620 Library Place, 1st Floor Conference Room (106), Evanston, IL 60208 map it
Audience: Faculty/Staff - Student - Public - Post Docs/Docs - Graduate Students
Contact: Program of African Studies 847.491.7323

Group: Program of African Studies
Category: Lectures & Meetings
Description:
Come join PAS for our weekly lunch and lecture. Lunch provided.
Speaker: Erin Moore (Buffett postdoctoral fellow)
Title: Detoothing Kampala: Notes on an Emerging Economy of Seduction
Abstract: In 2014, Ugandans were at the center of sex panic of global proportions. That year, along with the more infamous Anti-Homosexuality Act, President Yoweri Museveni signed into law the Anti-Pornography Act, nicknamed the "Miniskirt Bill" by the press. In the months leading up to its enactment, local vigilantes began enforcing the bill by publicly stripping women. In response, feminist activists protested by marching in miniskirts, and foreign donors withdrew millions of dollars in aid. Ugandan panic over miniskirts scapegoated young women for broader political economic insecurities the country faced at the same time that miniskirts had come to symbolize women's access to new resources from the powerful women's rights industry as well as from a particularly guileful form of moneymaking called "detoothing." To detooth is to take a man's money without reciprocating with sex, that is, to cheat him out of his end of a transactional sexual deal. In this talk, I will argue that in a context where men have long established social authority by controlling women's productive and reproductive labor, detoothing threatened patriarchal order as young women wrested control over the economic potential of their sexuality. Extraction by way of forestalling a promise, detoothing further panicked Ugandans as a metonym for other "seductive economies" they endure – economies that thrive on the continued deferral of consummation.
Bio: Erin Moore received her PhD from the University of Chicago in 2016. She is a sociocultural anthropologist interested in transnational processes, international development and global health, and the study of gender, sexuality, and youth. Her geographic focus is urban Uganda, and sub-Saharan Africa more broadly. Her doctoral research explores the global movement to "empower" adolescent girls as it unfolded through the transnational channels of a major NGO and into the lives of teenage women living in Kampala, Uganda's capital.