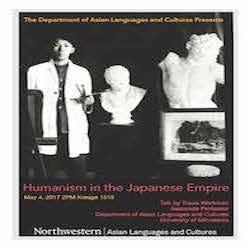 When: Thursday, May 4, 2017
2:00 PM - 3:30 PM Central
Where: Kresge Hall, 1515, 1880 Campus Drive, Evanston, IL 60208 map it
Audience: Faculty/Staff - Student - Public - Post Docs/Docs - Graduate Students
Contact: Department of Asian Languages and Cultures 847.491.5288

Group: Department of Asian Languages and Cultures
Category: Academic
Description:
Humanism in the Japanese Empire
Talk by Travis Workman
Abstract: Why has little attention been given to the role of the modern human sciences in Japanese colonial and imperial discourses (1910-1945), as well as in colonial Korean thought and literature? Through readings of texts in philosophy, literature, and social science, I examine the significance of concepts of human generality (or genus-being) for colonial governmentality in the Japanese empire. I show how ideas of the essence of the human in culturalism, Marxism, and imperial nationalism allowed for the translation of imperial knowledge into the colonial public sphere and facilitated the assimilation and differentiation of colonial populations. At the same time, resistant cultural practices such as minor literature worked against the grain of anthropocentric epistemologies. Philosophers and writers addressed will include Kuwaki Gen'yoku, Nakano Shigeharu, Yi Kwang-su, Kim Sa-ryang, and Yi Sang.

Speaker bio: Travis Workman is Associate Professor in the Department of Asian Languages and Literatures at the University of Minnesota, Twin Cities. He is the author of Imperial Genus: The Formation and Limits of the Human in Modern Korea and Japan. He is currently working on a book about film melodrama in Cold War South and North Korea.
Add to Calendar