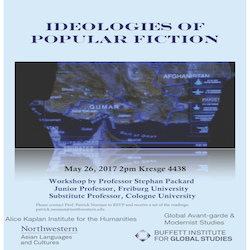 When: Friday, May 26, 2017
2:00 PM - 4:00 PM Central
Where: Kresge Hall, 4438, 1880 Campus Drive, Evanston, IL 60208 map it
Audience: Faculty/Staff - Student - Public - Post Docs/Docs - Graduate Students
Contact: Department of Asian Languages and Cultures 847.491.5288

Group: Department of Asian Languages and Cultures
Category: Academic
Description:
Workshop
By examining a range of popular works from The West Wing and House of Cards to Marvel comics, this workshop will ask three key questions about the fictional treatment of reality. What does the treatment of references to reality in fiction mean for the aesthetics and pragmatics of the fictionality involved in the production and consumption of these media? How can we discern and describe the supposed rules of popular fictionality in each case, turning implicit signals immanent in each presentation as well as surrounding discourses of media critique and control and make them explicit? How may an equally critical and descriptive concept of ideology further illuminate and be illuminated by, the discursive shape of these fictional stories? Participants are asked to come prepared to discuss their own examples of the fictional treatment of reality in media and to have read a set of texts on the topic.
Please contact Prof. Patrick Noonan to RSVP and receive a set of the readings: patrick.noonan@northwestern.edu

Stephan Packard is Substitute Professor for Popular Culture and Its Theories at Cologne University and Junior Professor for Media Culture Studies at Freiburg University. He is President of the German Society for Comics Studies (ComFor), chief editor of the open access journal Mediale Kontrolle unter Beobachtung, and co-editor of the journal Medienobservationen. – Anatomie des Comics. Psychosemiotische Medienanalyse (Göttingen 2006); Poetische Gerechtigkeit (ed. with Donat/Lüdeke/Richter, Düsseldorf 2012); Abschied von 9/11 (ed. with Hennigfeld, Berlin 2013); Thinking – Resisting – Reading the Political (Berlin 2013, ed. with Esch-van Kan/Schulte); Comics & Politics (Berlin 2014, ed.).