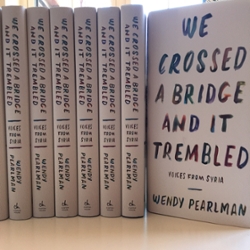 When: Monday, October 2, 2017
6:00 PM - 7:30 PM Central
Where: Community Meeting Room, First Floor, Evanston Public Library, 1703 Orrington Ave., Evanston, IL 60201
Audience: Faculty/Staff - Student - Public - Post Docs/Docs - Graduate Students
Cost: free of charge and open to the public
Contact: Danny Postel

Group: Middle East and North African Studies
Category: Lectures & Meetings
Description:
How have Syrians lived the uprising and war transforming their country? What can their personal stories teach us about both tragedy and resilience?
Wendy Pearlman, the Martin and Patricia Koldyke Outstanding Teaching Associate Professor of Political Science and a core faculty member of the MENA Program at Northwestern University, will explore these questions in this presentation of her acclaimed new book, We Crossed a Bridge and it Trembled: Voices from Syria.
Based on interviews that Pearlman conducted with more than 300 Syrian refugees across the Middle East and Europe since 2012, the book is a mosaic of first-hand stories and reflections that chronicle the Syrian conflict exclusively through the words of people who have lived it.
Critical praise for We Crossed a Bridge and it Trembled:
"[Pearlman's book] foreground[s] the extraordinary heroism of ordinary Syrians — both those who remain trapped in the yoke of an oppressive regime, and those struggling to make new lives in unwelcoming places. Pearlman's oral histories will remain essential reading in the emerging body of literary reportage from Syria in English." —New York Times
"A powerful must read book for anyone wanting to understand what's happening in Syria and why it matters." —Chicago Review of Books
"This book is something of a treasure trove, bustling with insight. In addition to giving Syrians a voice, it should be a companion to anything watched or read on Syria. It puts the very real, humanising voices of Syrians back into the spotlight, which is precisely where they belong." —The New Arab
"Pearlman, an accomplished political scientist, has chosen to let her Syrian interlocutors speak for themselves. What emerges is a complex, engaging and difficult oral history, which deserves a wide readership." —Marc Lynch, George Washington University
This event is part of the MENA Monday Night series, a partnership between Northwestern's MENA Program and the Evanston Public Library aimed at expanding the public's understanding of the MENA region and fostering a forum for questions and discussion.
MENA Monday Night events are free of charge and open to the public. Professor Pearlman will also sign copies her new book, which will be available for purchase.