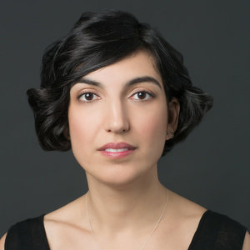 When: Monday, February 26, 2018
6:00 PM - 7:30 PM Central
Where: Community Meeting Room (1st Floor), Evanston Public Library (1703 Orrington Ave.), Evanston, IL 60201
Audience: Faculty/Staff - Student - Public - Post Docs/Docs - Graduate Students
Cost: Free of charge and open to the public!
Contact: Danny Postel

Group: Middle East and North African Studies
Co-Sponsor: Keyman Modern Turkish Studies (Northwestern Buffett)

Category: Lectures & Meetings
Description:
ABOUT THE IDIOT
A portrait of the artist as a young woman. A novel about not just discovering but inventing oneself.
The year is 1995, and email is new. Selin, the daughter of Turkish immigrants, arrives for her freshman year at Harvard. She signs up for classes in subjects she has never heard of, befriends her charismatic and worldly Serbian classmate, Svetlana, and, almost by accident, begins corresponding with Ivan, an older mathematics student from Hungary. Selin may have barely spoken to Ivan, but with each email they exchange, the act of writing seems to take on new and increasingly mysterious meanings.
At the end of the school year, Ivan goes to Budapest for the summer, and Selin heads to the Hungarian countryside, to teach English in a program run by one of Ivan's friends. On the way, she spends two weeks visiting Paris with Svetlana. Selin's summer in Europe does not resonate with anything she has previously heard about the typical experiences of American college students, or indeed of any other kinds of people. For Selin, this is a journey further inside herself: a coming to grips with the ineffable and exhilarating confusion of first love, and with the growing consciousness that she is doomed to become a writer.
With superlative emotional and intellectual sensitivity, mordant wit, and pitch-perfect style, Batuman dramatizes the uncertainty of life on the cusp of adulthood. Her prose is a rare and inimitable combination of tenderness and wisdom; its logic as natural and inscrutable as that of memory itself. The Idiot is a heroic yet self-effacing reckoning with the terror and joy of becoming a person in a world that is as intoxicating as it is disquieting. Batuman's fiction is unguarded against both life's affronts and its beauty–and has at its command the complete range of thinking and feeling which they entail.
Elif Batuman has been a staff writer at The New Yorker since 2010. She is the author of The Possessed: Adventures with Russian Books and the People Who Read Them. The recipient of a Whiting Writers' Award, a Rona Jaffe Foundation Writers' Award, and a Paris Review Terry Southern Prize for Humor, she holds a PhD in comparative literature from Stanford University. THE IDIOT is her first novel.
This event is part of the MENA Monday Night series, a partnership between Northwestern's MENA Program and the Evanston Public Library aimed at expanding the public's understanding of the MENA region and fostering a forum for questions and discussion. MENA Monday Night events are free of charge and open to the public.
Following the program, Elif Batuman will sign copies of The Idiot, which will be available for purchase at the event through Bookends and Beginnings bookstore.