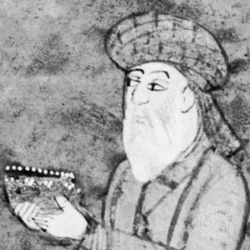 When: Tuesday, October 10, 2017
5:00 PM - 6:00 PM Central
Where: Kresge Hall, MENA Seminar Room (Room 4-531), 1880 Campus Drive, Evanston, IL 60208 map it
Audience: Faculty/Staff - Student - Post Docs/Docs - Graduate Students
Cost: Free
Contact: Danny Postel

Group: Middle East and North African Studies
Category: Lectures & Meetings
Description:
Join Northwestern Persian language students for a celebration of the 14th-century Persian lyric poet on his birthday! Just as Iranians celebrate Hafez's birthday with recitations of his poetry, so too will NU students (in Persian and English). There will also be a short discussion about his life and works. And birthday cake!
From the BBC:
'Shams-ud-din Muhammad Hafiz (c. 1320-1389) is one of the most beloved poets of the Persians, and is considered by many – from different cultures – to be one of the seven literary wonders of the world. Ralph Waldo Emerson and Johann Wolfgang von Goethe both agreed. As Emerson said of Hafiz: "He fears nothing. He sees too far, he sees throughout; such is the only man I wish to see or be." And Emerson gave Hafiz that grand and famous compliment, "Hafiz is a poet for poets."
From Encyclopædia Britannica:
Ḥāfeẓ's principal verse form, one that he brought to a perfection never achieved before or since, was the ghazal, a lyric poem of 6 to 15 couplets linked by unity of subject and symbolism rather than by a logical sequence of ideas. Traditionally the ghazal had dealt with love and wine, motifs that, in their association with ecstasy and freedom from restraint, lent themselves naturally to the expression of Sufi ideas. Ḥāfeẓ's achievement was to give these conventional subjects a freshness and subtlety that completely relieves his poetry of tedious formalism. An important innovation credited to Ḥāfeẓ was the use of the ghazal instead of the qasida (ode) in panegyrics. Ḥāfeẓ also reduced the panegyric element of his poems to a mere one or two lines, leaving the remainder of the poem for his ideas.
The extraordinary popularity of Ḥāfeẓ's poetry in all Persian-speaking lands stems from his simple and often colloquial though musical language, free from artificial virtuosity, and his unaffected use of homely images and proverbial expressions. Above all, his poetry is characterized by love of humanity, contempt for hypocrisy and mediocrity, and an ability to universalize everyday experience and to relate it to the mystic's unending search for union with God. His appeal in the West is indicated by the numerous translations of his poems. Ḥāfeẓ is most famous for his Dīvān; among the many partial English translations of this work are those by Gertrude Bell and H. Wilberforce Clarke.'