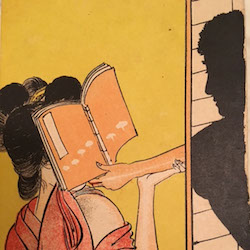 When: Friday, November 3, 2017
3:30 PM - 5:00 PM Central
Where: University Hall, 201, 1897 Sheridan Road, Evanston, IL 60208 map it
Audience: Faculty/Staff - Student - Public - Post Docs/Docs - Graduate Students
Contact: Department of Asian Languages and Cultures (847) 491-5288

Group: Department of Asian Languages and Cultures
Co-Sponsor: Asian Studies

Category: Academic
Description:
A talk by Nathan Shockey
Assistant Professor of Japanese, Bard College
The turn of the 20th century was a watershed moment for periodical publishing in Japan, as a highly literate populace began subscribing to magazines in the many thousands. This talk will examine the role of technological image-making (photography) and oral performance (comedic storytelling and oratory) in the development of market-oriented discursive spaces for Japanese literary writing and popular culture. The talk will focus on two major publishing companies: Hakubunkan, which revolutionized magazine publishing through war photography and color prints, and Kôdansha, which became Japan's premier entertainment publisher through the popularization of late Meiji oral performance genres. In this transformative moment, the near-universal status of typographic print was predicated on the remediation of non-typographic visual and auditory media, and new valences of meaning were projected onto print as a mass medium.
Sponsored by the Department of Asian Languages and Cutlures and the Asian Studies Program.
Add to Calendar