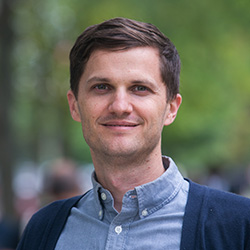 When: Tuesday, November 7, 2017
6:30 PM - 8:00 PM
Where: Red Lion Pub, front room, 2446 N Lincoln Ave, Chicago, IL 60614
Audience: Faculty/Staff - Student - Public - Post Docs/Docs - Graduate Students
Contact: Program of African Studies 847.491.7323

Group: Program of African Studies
Category: Lectures & Meetings
Description:
This will be an interactive workshop.  Participants are expected to read the paper before the event and come ready to discuss.  Link to paper.
Title of paper to be workshopped: Performing Technology: Alternative Medicine Diagnostic Technologies in Ghana's Herbal Medicine Clinics
Damien Droney, postdoctoral researcher and instructor, University of Chicago, Stevanovich Institute on the Formation of Knowledge
Discussant: Jessica Pouchet, PhD candidate in Linguistic Anthropology, Norhtwestern University
Abstract: During my 2011-2013 fieldwork with Ghanaian herbal medicine researchers and practitioners, the acquisition of expensive alternative medicine diagnostic devices became a major mark of distinction for certain herbal medicine clinics. At times, the owners of these clinics would make charismatic performances of the almost magical powers of their new technologies. I contextualize these performances within the colonial history of technology in Ghana, when technologies marked the distance between elite users of technology and those meant to be amazed by them. However, while spectacular technologies were once associated with state power, they are now signs of individual wealth, manifesting a social imaginary of technology as associated with social inequality and exploitation. I examine how the failure of these devices to operate as advertised allowed for multiple genres of performance to emerge, arguing that a focus on technological performance opens opportunities to identify alternative modes of constructing the meaning, purpose, and social organization of technology.
Bio: Damien Droney is a postdoctoral researcher and instructor at University of Chicago's Stevanovich Institute on the Formation of Knowledge. He received his PhD in anthropology from Stanford University, where his research focused on the politics of science, technology, and medicine in postcolonial Africa. While at SIFK he will be revising his dissertation as a book manuscript to be titled Weedy Science: The Meaning of Science in Postcolonial Ghana. The book is an ethnographic study of Ghana's herbal medicine sector, with a focus on political projects of class, race, and nation that shape the vocation of science in West Africa.
The Red Lion Lecture/Workshop is a program co-sponsored by the Program of African Studies at Northwestern University and the African Studies Workshop at the University of Chicago.  The lecture is held twice a year, once in fall and once in spring.