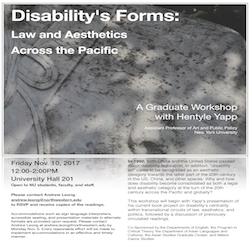 When: Friday, November 10, 2017
12:00 PM - 2:00 PM Central
Where: University Hall, 201, 1897 Sheridan Road, Evanston, IL 60208 map it
Audience: Faculty/Staff - Student - Post Docs/Docs - Graduate Students
Contact: Department of Asian Languages and Cultures (847) 491-5288

Group: Department of Asian Languages and Cultures
Category: Academic
Description:
A Graduate Workshop
with Hentyle Yapp
Assistant Professor of Art and Public Policy
New York University
Open to NU students, faculty, and staff.
Please contact Andrew Leong
andrew.leong@northwestern.edu
to RSVP and receive copies of the readings.
Accommodations such as sign language interpreters,
accessible seating, and presentation materials in alternate
formats are provided upon request. Please contact
Andrew Leong at andrew.leong@northwestern.edu by
Monday Nov. 6. Every reasonable effort will be made to
implement accommodations in an effective and timely
manner.
In 1990, both China and the United States passed
major disability legislation. In addition, "disability
art" came to be recognized as an aesthetic
category towards the latter part of the 20th century
in the US, China, and other spaces. Why and how
does disability become consolidated as both a legal
and aesthetic category at the turn of the 20th
century across the Pacific and globally?
This workshop will begin with Yapp's presentation of
his current book project on disability's centrality
within transnational circuits of law, aesthetics, and
politics, followed by a discussion of previously
circulated readings.
Co-Sponsored by the Departments of English, the Program in
Critical Theory, the Department of Asian Languages and
Cultures, the Asian Studies Graduate Cluster, and Mellon
Dance Studies.