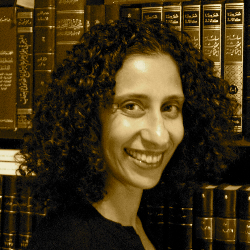 When: Monday, May 21, 2018
12:00 PM - 1:30 PM Central
Where: Kresge Hall, 1-515 (The Forum), 1880 Campus Drive, Evanston, IL 60208 map it
Audience: Faculty/Staff - Student - Public - Post Docs/Docs - Graduate Students
Cost: Free of charge and open to the public.
Contact: Danny Postel

Group: Middle East and North African Studies
Category: Lectures & Meetings
Description:
In 1945, psychologist Yusuf Murad introduced an Arabic term borrowed from the medieval Sufi philosopher and mystic Ibn 'Arabi — al-la-shu'ur — as a translation for Sigmund Freud's concept of the unconscious. By the late 1950s, Freud's Interpretation of Dreams had been translated into Arabic for an eager Egyptian public. In The Arabic Freud, Omnia El Shakry challenges the notion of a strict divide between psychoanalysis and Islam by tracing how postwar thinkers in Egypt blended psychoanalytic theories with concepts from classical Islamic thought in a creative encounter of ethical engagement.
Drawing on scholarly writings as well as popular literature on self-healing, El Shakry provides the first in-depth examination of psychoanalysis in Egypt and reveals how a new science of psychology — or "science of the soul," as it came to be called — was inextricably linked to Islam and mysticism. She explores how Freudian ideas of the unconscious were crucial to the formation of modern discourses of subjectivity in areas as diverse as psychology, Islamic philosophy, and the law. Founding figures of Egyptian psychoanalysis, she shows, debated the temporality of the psyche, mystical states, the sexual drive, and the Oedipus complex, while offering startling insights into the nature of psychic life, ethics, and eros.
Omnia El Shakry is professor of history at the University of California, Davis. She is the author of The Great Social Laboratory: Subjects of Knowledge in Colonial and Postcolonial Egypt (Stanford University Press, 2007) and The Arabic Freud: Psychoanalysis and Islam in Modern Egypt (Princeton University Press, 2017) and the editor of Gender and Sexuality in Islam (Routledge, 2016).
This lecture is part of the MENA program's quarterly New Directions in Middle East and North African Studies series, which presents scholars from a range of disciplines taking new approaches to the study of the region.