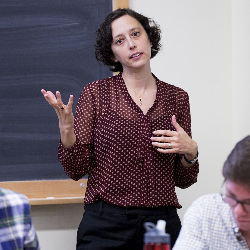 When: Monday, April 16, 2018
12:00 PM - 1:30 PM Central
Where: Kresge Hall, 1-515 (The Forum), 1880 Campus Drive, Evanston, IL 60208 map it
Audience: Faculty/Staff - Student - Post Docs/Docs - Graduate Students
Cost: Free
Contact: Danny Postel

Group: Middle East and North African Studies
Co-Sponsor: Keyman Modern Turkish Studies (Northwestern Buffett)

Category: Lectures & Meetings
Description:
This paper explores the symbolic foundations of power-making in Turkey over the last decade. Particularly after the Gezi Protests, as the Turkish government encountered significant opposition to its rule, its official iconography and ceremonies became more daring, provocative, and spectacular. Grandiose opening ceremonies for public works, mass rallies, and extravagant spectacles, marked by special audio-visual effects, became venues where the ruling Justice and Development Party's (AKP's) electoral base got remobilized.
Senem Aslan's objective in this study is to show how Turkey's Islamists use performative practices not only to communicate their ideology and build solidarity but also to create political power through attempts at emotional mobilization. She argues that we need to take the use of performative and affective dimensions of politics into deeper account to understand the ability of Islamists to generate mass appeal and mobilization.
Senem Aslan is Associate Professor of Political Science at Bates College and will be Spring 2018 Visiting Professor in the Keyman Modern Turkish Studies Program, Buffett Institute for Global Studies, Northwestern. Her book Nation-Building in Turkey and Morocco: Governing Kurdish and Berber Dissent was published by Cambridge University Press in 2014. She teaches courses on Middle East politics, state-building, and nationalism. She was a postdoctoral fellow in the Department of Near Eastern Studies at Princeton University between 2008 and 2010. She has published articles in the International Journal of Middle East Studies, Nationalism and Ethnic Politics, and the European Journal of Turkish Studies. Her recent research focuses on the politics of symbolism and imagery in Turkey.
This event is co-sponsored by the Keyman Modern Turkish Studies Program, Buffett Institute for Global Studies.