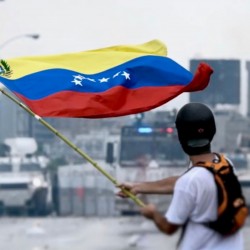 When: Thursday, March 1, 2018
3:00 PM - 5:00 PM Central
Where: UIC Student Center East, Room 302, 750 S Halsted St, Chicago, IL 60607
Audience: Faculty/Staff - Student - Post Docs/Docs - Graduate Students
Contact: Parth Joshi (847) 491-7980

Group: Latin American and Caribbean Studies
Co-Sponsor: Latin American Studies Working Group (Buffett Institute)

Category: Academic
Description:
The Latin American and Caribbean Studies Program is excited to take part in co-hosting Crisis in Venezuela: Historical Perspectives and Potential Solutions.
The death of President Hugo Chávez in 2013 and the fall of international oil prices produced a major political and socioeconomic crisis in Venezuela. The ensuing conflict between the government of President Nicolás Maduro, Chávez's successor, independent Chavista sectors, opposition movements, and U.S.-backed conservative elites over issues concerning democratic rule and national sovereignty is still unfolding. The deepening of the Venezuelan conflict has potentially dire implications for the entire hemisphere.
This event on current affairs in Venezuela—sponsored by the University of Illinois at Chicago's Institute for the Humanities, and Northwestern University's Latin American and Caribbean Studies Program—brings together a panel of prominent scholars of the South American nation to discuss the historical causes of the crisis, the current situation, and the potential outcomes. The one-day conference will address the crucial question: Is a political solution to the Venezuelan crisis possible?
The event is open to the public and the media, and will run as a conversatorio: each panelist presents for 15 minutes, and then the moderator takes the lead in establishing a dialogue with them, and asking the first set of questions before the public does.
Panelists include Alejandro Velasco (New York University), Veronica Zubillaga (Universidad Simon Bolivar, Caracas), and David Smilde (Tulane University).
This event is co-sponsored by the Department of History, the Latin American Studies Working Group (Buffett Institute for Global Studies), the Chabraja Center for Historical Studies, the Institute of the Humanities at the University of Illinois at Chicago, the Department of History at the University of Illinois at Chicago, and the Center for Latin American Studies (CLAS) at the University of Chicago.