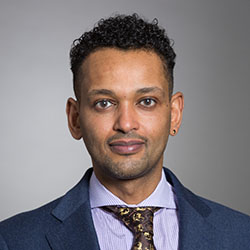 When: Wednesday, February 28, 2018
5:00 PM - 7:00 PM
Where: University Hall, Hagstrum Room, 201, 1897 Sheridan Road, Evanston, IL 60208 map it
Audience: Faculty/Staff - Student - Public - Post Docs/Docs - Graduate Students
Contact: Tyrone St William Palmer

Group: Program of African Studies
Category: Lectures & Meetings
Description:
Sponsored by the African Gender and Expressive Arts working group
Outside the Temple: Love and Sexuality in James Baldwin's The Fire Next Time and "To Crush a Serpent"
Dagmawi Woubshet, Ahuja Family Presidential Associate Professor of English, University of Pennsylvania
Abstract:
No other American writer embodies the 1960s more so than James Baldwin. Not only did the decade cement his reputation as that rare artist, it saw also his rise as one of America's preeminent public intellectuals. And still Baldwin would continue to return to the '60s in his late works, using the advantage of hindsight to reexamine the significance of the era in its extended wake. Since Baldwin sought to make meaning of the '60s in real time as well as in retrospect, it is instructive, even necessary, to take an expansive view of his ever-changing outlook on the era. This shift in perspective is particularly important in understanding a writer like James Baldwin so closely associated with the '60s/civil rights movement that that association has come to define and, too often, delimit his work. This talk will consider, then, The Fire Next Time, a '60s classic, alongside "To Crush a Serpent," one of Baldwin's '80s essays and an exemplary piece of the author's late style. In "To Crush a Serpent," Baldwin returns to a formative experience he'd written at length about in The Fire Next Time—his years as a teenage evangelist preacher—but this time he recasts that experience as a sexual coming-of-age story. As a queer sequel to the iconic civil rights era text that now includes the flesh and its reservoir of desires and fears, "To Crush a Serpent" revises the definitive account of Baldwin's ministry in The Fire Next Time in ways that merit close attention.