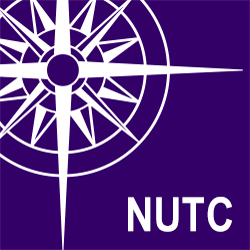 When: Thursday, April 12, 2018
3:30 PM - 5:00 PM Central
Where: Chambers Hall, Lower Level, 600 Foster St, Evanston, IL 60208 map it
Audience: Faculty/Staff - Student - Public - Post Docs/Docs - Graduate Students
Cost: Open to the public / No registration required
Contact: NUTC Admin 847.491.7287

Group: Northwestern University Transportation Center
Category: Lectures & Meetings
Description:
Northwestern University Transportation Center (NUTC) & Sandhouse Rail Group present:
 "Wally Abbey visits Cincinnati Union Terminal"
GEORGE W. HAMLIN
President, Hamlin Transportation Consulting
***CLICK TO REGISTER***
ABSTRACT:
Evanston native Wallace (Wally) Abbey's evocative photographs of railroads, particularly those taken during the post-World War II steam-to-diesel transition period, have appeared widely in print over the years. This presentation focuses on the photos he made at Cincinnati's Art Deco Union Terminal in 1952, some of which appeared in a feature article in TRAINS magazine in 1953. In addition to the photos, which exemplify photojournalism, history, and in many cases, art, the presentation will address the context and background within which they were made.

SPEAKER BIO:
George W. Hamlin, President of Hamlin Transportation Consulting and previously Managing Director at ACA Associates has more than 40 years of experience in the commercial aviation and aerospace industries. His previous experience includes senior consulting positions at Global Aviation Associates (now InterVistas-ga2), MergeGlobal and Morten Beyer & Agnew. His advisory expertise includes specialization in transport economics, marketing and strategic planning, aircraft requirements/fleet planning, economic analysis and forecasting for both passenger and cargo operations.
Prior to Global Aviation Associates, Mr. Hamlin was Director of Strategic Planning at Airbus Industrie of North America, Manager of New Business Development at Lockheed Aeronautical Systems Company, and Director of Schedule Planning at Texas International Airlines. Mr. Hamlin began his career in commercial aviation as a Financial Analyst with Trans World Airlines, in New York, NY, and later was responsible for the scheduling of the carrier's freighter operations, after serving initially as a part-time Customer Service Agent at JFK Airport.
Mr. Hamlin holds a Master of Science in Transportation from Northwestern University. He also earned a Bachelor of Arts degree in Economics and Political Science (double major) from Washington and Lee University. He is the author of four books, including the Skyliners series of pictorial airline histories; numerous articles; and has many published photographs of transportation subjects.

....

ABOUT HAMLIN TRANSPORTATION CONSULTING:
Hamlin Transportation Consulting is an independent advisory and consulting service providing strategic counsel and analysis to the transportation industry, with an emphasis on commercial aviation and aerospace.
Based in Fairfax, Virginia, Hamlin Transportation Consulting provides value for clients by applying the experience and expertise gained during my 40-plus years of transportation and aerospace company management, as well as consulting engagements. A particular area of interest is airline and aircraft economics, including fleet planning.

....
ABOUT SANDHOUSE RAIL GROUP:
The Hagestad Sandhouse Rail Group began in 2002 as an effort to connect active and veteran rail practitioners with students and academics interested in rail-related issues. Named for Douglas Dean Hagestad, a primary group founder who passed away in 2007, the Sandhouse Group meetings typically feature presentations from field experts, followed by an open forum discussion.