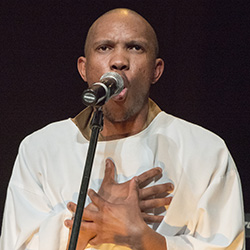 When: Wednesday, April 11, 2018
12:00 PM - 1:30 PM
Where: 620 Library Place, Program of African Studies, Evanston, IL 60208 map it
Audience: Faculty/Staff - Student - Public - Post Docs/Docs - Graduate Students
Cost: Free
Contact: Susanna Sacks

Group: Alice Kaplan Institute for the Humanities
Co-Sponsor(s):
Program of African Studies
English Department

Category: Lectures & Meetings
Description:
Re-inventing a Colonial Language to Tell an African Story - Talk by Lwanda Sindaphi
The current wave of discourses surrounding decolonisation has fogged the status quo globally. Africans use a myriad of expressive forms to dismantle ongoing colonial structures. Theatre is one of these forms, and language is the primary starting point. Historically, English was used as a tool to silence African cultures, religions, languages and beliefs; subsequently, the former's sound still carries connotations of oppression and dehumanization. By using a colonial language, one inadvertently and implicitly succumbs to promoting the European project of colonisation. On the other hand, a decolonial project that uses and promotes indigenous languages is complicated by the fact that Africa is linguistically complex. Therefore, the question should be: how do we re-invent the colonial language to tell African stories? Is it possible to Africanise colonial languages by applying different writing techniques of prosody, form and imagery that tell African stories without compromising meaning or detaching people's lived experiences and identities from the writing itself?
This talk is part of a spring residency of the Lingua Franca Spoken Word Movement, a South African company that fuses spoken word poetry and music with a commitment to making socially ostracized communities visible through workshops, performances, and platforms. Lingua Franca has disturbed the poetry community nationally by creating provocative and groundbreaking productions, while organizing the annual Naked Word Festival as an affirmation, declaration, and exploration of the future of a distinctly South African poetics.
During their two-week residency at Northwestern and in Chicago, Lingua Franca will give talks on indigeneity, poetry and social challenges, and performance in South Africa. In addition to this lunch talk, their other events include a lunchtime talk on poetry in South African schools on Thursday, April 12, a keynote talk and performance on Friday, April 13, and a performance at the Poetry Foundation on Wednesday, April 18. Lingua Franca will also be performing at venues around Chicago on Friday and Saturday, April 20-21.
Co-sponsored by the Program of African Studies, the Buffett Institute for Global Studies, the Kaplan Institute for the Humanities, the Department of English, the Global Indigeneity Working Group, The Center for the Writing Arts, The Graduate School, and the Poetry Foundation.