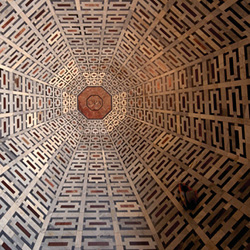 When: Monday, February 19, 2018
5:00 PM - 6:30 PM
Where: Kresge Hall, 2351, 1880 Campus Drive, Evanston, IL 60208 map it
Audience: Faculty/Staff - Student - Public - Post Docs/Docs - Graduate Students
Cost: $0
Contact: Phil Hoskins 847.491.5490

Group: Department of French and Italian
Category: Lectures & Meetings
Description:
DR. AMBROGIO CAMOZZI PISTOJA is Keith Sykes Research Fellow in Italian Studies at Pembroke College (Cambridge) and Affiliated Lecturer in Italian at the University of Cambridge. He has primary research interests in medieval Italian literatures, art and law. He has published on the wider field of medieval and early modern cultural history, including studies on the magic lore, rhetoric, the medieval Alexander, manuscript illumination, cartography and mythology. His current research project is on the literary, visual and criminal history of satire in medieval Italian culture.
When asked by his disciples why it is that he speaks in parables, Jesus of Nazareth explains that his stories are told to elude the understanding of the hardened heart people (Mt. 13:10-15, Mk. 4:10-12 and Lk. 8:10). No matter how literate these listeners are, parabolic texts will escape their interpretive efforts.
Traditionally, texts that are intended to be understood by only a certain group of people make use of complex allegorical structures or secret languages. For instance, in the Neoplatonism associated with the twelfth-century cathedral schools we see the allegorical sense being used to sever philosophical teaching from the mass of the uneducated, of those seeking "only to gratify the ear". What is radically different between parabolic epistemology and these forms of exclusive language, is that it would be able to cut off the wicked, rather than the uneducated or the non-initiated.
This talk examines the association between parabolic epistemology and works by Dante (Comedy and Convivio) and Giotto (Scrovegni Chapel).