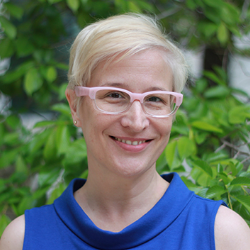 When: Monday, April 30, 2018
12:00 PM - 1:30 PM
Where: Kresge Hall, Room 1-515 (The Forum), 1880 Campus Drive, Evanston, IL 60208 map it
Audience: Faculty/Staff - Student - Post Docs/Docs - Graduate Students
Cost: Free
Contact: Danny Postel

Group: Middle East and North African Studies
Category: Lectures & Meetings
Description:
Fresh back from Egypt, Jessica Winegar will present preliminary material from her book-in-progress that examines how aesthetic forms, judgments, and practices played a central role in both delegitimizing revolutionary movements and in reproducing the longstanding power of the regime in Egypt, particularly during the period just after the 2011 uprising. She will focus on how seemingly opposed factions deployed the same aesthetic regimes to create their political stances and expand their constituencies, and especially to consolidate power for the current president, Abd al-Fattah Al-Sisi. She will argue that we need to attend to the power of the aesthetic in order more fully to understand how certain political possibilities are opened or foreclosed.
Jessica Winegar is the Harold H. and Virginia Anderson Chair in the Department of Anthropology and a member of the Core Faculty of the Program in Middle East and North African Studies. She is Interim Director of the Alice Kaplan Institute for the Humanities (2017-2018) and will be a Fellow of the Institute for Advanced Study in Princeton for 2018-2019.
Her research areas include contemporary arts and cultural production in the Middle East and US critical university studies. She is author of Creative Reckonings: The Politics of Art and Culture in Contemporary Egypt (Stanford University Press, 2006), which won the Middle East Studies Association's Albert Hourani Book Award, and co-author (with Lara Deeb) of Anthropology's Politics: Disciplining the Middle East (Stanford University Press, 2015).
She has played an active role in ArteEast, an arts organization dedicated to supporting and promoting artists from the Middle East and its diasporas. Winegar is also a founding member of the Task Force for Middle East Anthropology, a group dedicated to increasing the relevance, visibility, and application of anthropological perspectives on the Middle East.
Winegar has received grants and fellowships from the National Endowment for the Humanities, American Council of Learned Societies, Social Science Research Council, Fulbright, and the Mellon Foundation. She has enjoyed postdoctoral fellowships at the University of California at Berkeley, Cornell University, and the School for Advanced Research.
She currently chairs the editorial committee of the Middle East Research and Information Project (MERIP).