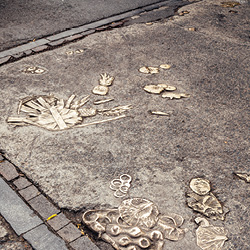 When: Monday, April 16, 2018
4:00 PM - 5:30 PM Central
Where: Kresge Hall, Kaplan Seminar Room, 2351, 1880 Campus Drive, Evanston, IL 60208 map it
Audience: Faculty/Staff - Student - Public - Post Docs/Docs - Graduate Students
Cost: $0
Contact: Phil Hoskins (847) 491-5490

Group: Department of French and Italian
Category: Academic
Description:
A lecture with MARGHERITA D'AYALA VALVA, Fulbright Distinguished Lecturer Chair at Northwestern University and Assistant Professor of Modern and Contemporary Art at Scuola Normale Superiore in Pisa and SILVIA BOTTINELLI, Visual and Critical Studies Department of the School of the Museum of Fine Arts at Tufts University.
Food, ranging from dinners to edible gardens, has been incorporated into public art projects since the 1960s. Artists as well as contemporary scholars have analyzed the Eat Art movement's historical significance, however, the question of its legacy remains open-ended. During the 1990s food became more consistently linked to relational art and social sculpture.
This talk will address food art in the public sphere in the past five decades, as exemplified by the forthcoming issue of the journal Public Art Dialogue, guest-edited by professors Bottinelli and d'Ayala Valva. The speakers will present essays, interviews, and artist projects exploring diverse geographical contexts and power dynamics, looking at long-term and temporary projects, and focusing on participatory, sculptural, and conceptual practices.